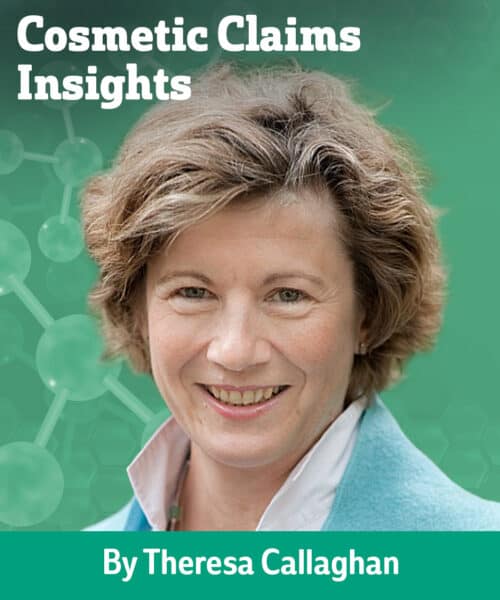 From Sachets to Slavery – "For I have learned to look on Nature, not as in the hour of thoughtless youth, but hearing oftentimes the still, sad music of Humanity" (William Wordsworth 1798).

In my up-and-coming presentation at the Society of Cosmetics Scientists Formulate event next month, I am presenting an argument as to why making so-called "green" or "sustainable" claims in cosmetics are nigh on impossible. One aspect of the SCS presentation focuses on the issue of "Greenwashing", yet another sad lesson that brands will no doubt have to learn time and time again. Furthermore, and in the recent Provenance Skin Deep Beauty Report 20221, examining sustainability claims and shopper expectations, the sharp distrust between consumers and beauty brands when it comes to sustainability promises is glaring. Nothing new then?

So let's walk you through the so-called "7 deadly sins" and why they are not only a "greenwashing" issue, but are also a compliance issue under the EU Cosmetic Claims Regulation's 655/2013, 6 Criteria.

Firstly, the UN's guidelines for providing product sustainability information, defines green washing as follows:
• An attempt to mislead consumers and to market products more environmentally friendly than they actually are.
• An exaggeration or misrepresentation; a claim that cannot be verified, is irrelevant or is simply false.
• Where green relates to environmental claims but is also used in the context of social and ethical product information.

From this definition alone, it is clear that a number of cosmetic brands are falling short of expectations. Added to this, and secondly, we also have various national "greenwashing codes", as well as ISO 14201, which although published in 20162 still stands as we end 2022. It states that: "The concepts involved in sustainability are highly complex and still under study. At this time there are no definitive methods for measuring sustainability or confirming its accomplishment. Therefore, no claim of achieving sustainability shall be made."
Once one ingredient/brand starts "something" everyone else follows because they do not want to be seen as "foolish" when the "something" they are "following" actually IS foolish !

While some of you may be familiar with them, the so-called "7 deadly sins" of greenwashing are as follows:
1. Hidden Trade-Offs
This is almost as bad as those so-called "carbon-neutral" claims which are so "yesterday"! Anyway, the sin of hidden trade-offs is where the claims suggest that a product is "green" based on a narrow set of attributes, without attention to other important environmental issues. We use a lot of paper and cartons (small and big) in our industry, and while we try to promote the positive attributes of using recycled paper or even sustainable forests, for example, they may not be green/sustainable in reality. This is because other important environmental issues in the paper-making process, such as greenhouse gas emissions or chlorine used in bleaching, are very important and have to be taken into consideration.
Another example would be where a large multinational cosmetic company buys in so-called recycled plastic to put into its "green" packaging, and yet neglects the community e.g. in Indonesia, that it has bought it from. Thus, perpetuating squalor, bonded-labour, poor health, and overall lack of community development in the process. The "detachment" these companies make from the UN's request for responsibility is obviously apparent and considered immoral as well – "Sustainable development is development that meets the needs of the present without compromising the ability of future generations to meet their own needs" 3.
This "sin" is non-compliant, in particular, with the claims criteria: Truthful, Honesty, Fairness, Informed Decision. In other words it misleads the consumer.
2. No Proof – Lack of or No Evidence
Despite is being 2022, trying to get brands to comply with the general request for "evidence" supporting their "regular" claims continues to be an uphill struggle. In the context of "greenwashing", the sin of no evidence is where a green sustainable claim is unsubstantiated by not providing easily accessible supporting information or by a reliable third-party certification. A cosmetic example here would be facial cleansing wipe products that claim various percentages of post-consumer recycled content without providing evidence. This particular "sin" is non-compliant with all of the 6 claims criteria.
3. Vagueness
Ever since our cosmetic industry has been in existence, it thrives on "vagueness" in order to sell stories and make a sale! The sin of "vagueness" is where a claim is so poorly defined or broad that its real meaning is more than likely to be misunderstood by the consumer.
This is far different from "hyperbole" which does have some acceptability. An example of the sin of "vagueness" would be where a brand claims "all natural". As I hope we all know by now, nature may be natural but not necessarily "green". Nature provides some of the worlds best toxins and poisons. Moreover, the "black-gold" we humans are reliant on, whilst being "all natural", is clearly not "green"! The sin of vagueness is notably noncomplaint with the claims criteria: Honesty, Fairness, Informed Decision.
4. False Label Obsession
This sin arose at the point where everyone decided to jump on the bandwagon as an easy way to make money not only out of the consumer but also out of naive brands. The industry's obsession bruised those "honest" labels who strive to meet the "green" commitment such as Natrue, Cosmos and EUBT. False labelling of products that, through either words or images, gives the impression of third-party endorsement where no such endorsement exists, is illegal and misleading; fake labels, in other words. This sin, is non-complaint with all of the claims criteria.
5. Irrelevant Claim(s)
A green-sustainable claim that may be technically be truthful, but in reality is unimportant or unhelpful for consumers seeking sustainably preferable products. Free-from claims are common and frequent examples, despite the fact that there is either no clear proof for the deliberate absence of an ingredient, or that particular ingredient is banned anyway! This sin, is non-complaint with all of the claims criteria.
6. The Lesser Of Two Evils
A claim that may be true within the product category but that risks distracting the consumer from the greater environmental impacts of the category as a whole. A classic example of this sin is the issue of using palm oil from so-called sustainable forests. These forests have destroyed biodiversity and chained communities into only producing palm oil. What happens when the cosmetic and food industries no longer want palm oil in their products? CBD is in a similar position – derived from a Class B drug and all the associated social and economic consequences. Look at the "wider picture", not just what is in front of you. This sin could be deemed non-compliant with nearly all of the claims criteria.
7. Lying
Green sustainable claims that are simply false, and are therefore deemed non-compliant with all of the claims criteria. "100% natural", "100% sustainable", etc. Since "sustainability" in cosmetics cannot be reached we can only "aspire" to achieving the 17 goals set by the UN, and focus on our "commitment" to achieving sustainability. The sooner marketing and sales get this point, the sooner we will stop misinforming or even dis-informing the consumer.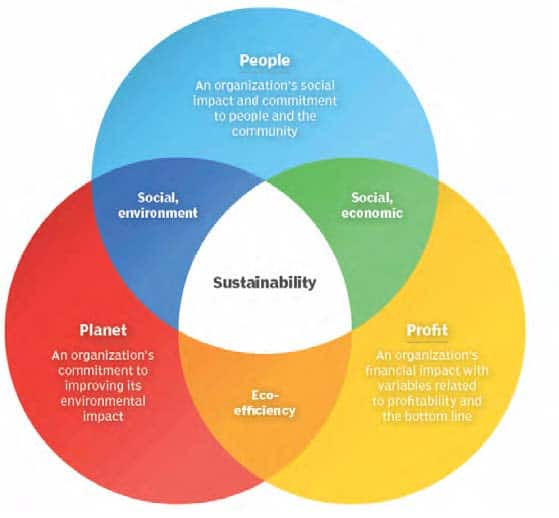 Planet, People, Profit: How Sustainability Could Be Achieved
1 https://info.provenance.org/skin-deep-beauty
2 https://www.iso.org/standard/66652.html
3 https://www.iisd.org/mission-and-goals/sustainable-developm