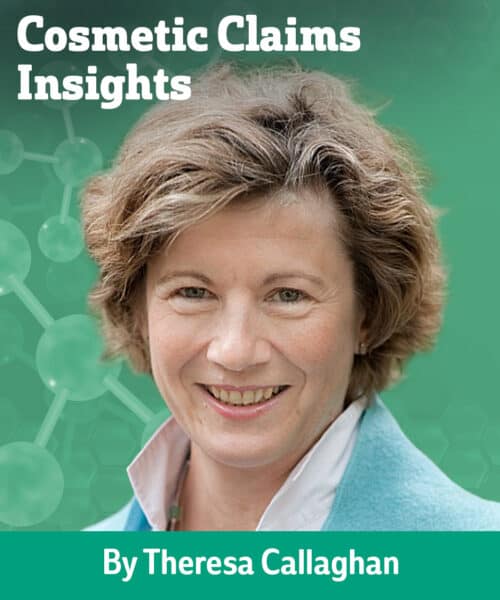 In this month's column we take a look at the challenges faced with science literacy and ignorance when it comes to cosmetic claims and beyond …
Some of us in the industry will have been blessed with awards and honours for our contributions to the field of cosmetics and the wider dermatology category. Many of them will be for R&D while others for creativity in Marketing, and others because they are a "matter of honour". Some recipients will forgivably brag, with varying degrees of humility. There is one "badge of honour" though, that isn't so honourable or "cool" which has become worrisome, and even considered dangerous at times. This is the ever-growing badge of ignorance popularly worn as a badge of honour.
I first came across this particular badge nearly 30 years ago while on one of a number of visits I made to the USA with the company I was working for at that time. In a claims development meeting between R&D and Marketing – which was becoming rather fractious – the VP R&D banged his fist on the table and said sternly, "…Why is it that some of you Marketing people wear
your ignorance as a badge of honour – you should be ashamed of yourselves!"
Clearly he was incensed that certain individuals could not, or more truthfully would not, grasp the simple concept of the "subject" under discussion. Science illiteracy within the cosmetic industry (and the general public) he said, "Would come back to bite us". Indeed it has, and the bite wounds cut deep.
Science literacy is often held up as crucial for avoiding sciencerelated misinformation and enabling more informed individual and collective decision-making1. So what has happened in our social media crazed world, where reading is considered too timeconsuming? What is science literacy, how do we achieve it, what are the important benefits resulting from it? Without science
literacy how on earth are we expected to engage with the general public to provide the factual truth and prevent/shoot down "misinformation"? Though not solely so, this is especially true of our cosmetic industry. We see example after example of "misinformation," resulting in brands being caught out by various Authorities around the world.
Rejoice in your stupidity, look upon your ignorance as a badge of honour, and condemn everything you don't understand.

(T.Bankhead edited)
Only recently, for those of you who follow me on LinkedIn, will have seen the thread concerning claims misinformation surrounding APDeos2, and how a brand was caught out over a YouTube post in the UK. Moreover, it was the discussion thread underneath the knock-some-common-sense-into-them post, that proved more interesting. How do you separate truthful science from misinformed science which has successfully mushroomed into everything from "clean beauty" (which not even the Regulatory bodies can define), to "toxic chemicals", "cruelty-free", etc.
There is no such thing as the perfect ingredient or perfect product, or even perfect copy-writing. We are after all human, and therefore anything we do or say will not be perfect, since as humans we areimperfect. You only have to look at the current noise surrounding AI, Chatbots and the like3. While a growing trend in our industry, AI is not, and will not be perfect because it is created by humans. Perfection is only something we can hope to strive for in our industry, and in life generally.
Our so-called "average consumers, who are circumspect" also seem at times to be either growing quieter, or are becoming a dying breed in the face of social media focused consumerism. While our EU regulation states that we are not in the business of "protecting fools from their folly" ((EC) No 1223/2009), if we are to engage with the public, and clearly show them that wearing ignorance as a badge of honour is no longer cool (since it never was!), the brainiacs in our industry (and wider society) must also find the means to refute that such ignorance can't be labelled as a "trendy lifestyle" either. Otherwise we will be spending far too much time and energy "protecting" such "fools".
Ignorance maybe bliss at times, since it is also a defence blocking mechanism. Yet, where ignorance is used as a "cool" tool to cause mischief and spread ideologies, e.g., that the cosmetic industry is somehow "ignorant" of what's going on, sets a dangerous precedent. Ultimately, it will mean the rapid drive for more industry legislation, with ingredients and products having to go through MHRA/FDA drug type scrutiny, testing, and pre-market approval, and claims decided by the authorities, not the industry.
Right now, I'm in favour of this, but actually hope that it does not happen!
Based in Hamburg, Dr Theresa Callaghan has international career spanning more than 30 years, having worked for a number of well-respected personal care companies at the senior level including LVMH-Dior, Unilever, Marks & Spencer, J&J, Evonik and proDERM. In 2008 she set up her own consulting business, anticipating a need for more discipline of cosmetic claims, and furthering  scientific developments involved in that process. As a scientist and the author of the popular book Help! I'm Covered in Adjectives: Cosmetic Claims & The Consumer (available from Amazon) Callaghan is also widely published with more than 120 papers. She gives regular workshops and presentations internationally and is a major contributor for peer-reviewed and trade journals, as well as authoring behalf of clients internationally. Theresa is also a lecturer on the MSc course for Cosmetic Science at the university of Sunderland (UK).
In addition she has appeared in number of press articles, interviews and podcasts and even has her own website and YouTube channel for cosmetic claims.