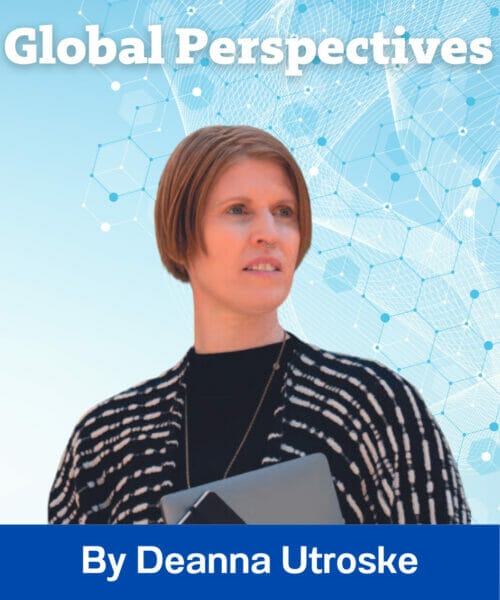 Editor's Note:
With her column Global Perspecive, Deanna Utroske, Beauty Industry Public Speaker takes up current topics from the personal care industry and talks about them with industry experts. She continues her column with this article on Advances & Opportunities in (Pre)Clinical Testing for Cosmetics and Personal Care. Deanna addresses the growing attention to evaluating the effectiveness of both beauty ingredients and finished products. And there are other advances in cosmetics and personal care (pre)clinical testing. She talked about this to industry experts like Robyn Hickerson, Founder and CEO of Ten Bio Ltd, Neelam Muizzuddin, PhD, President of Skin Clinical Research Consultants and the former Director of Clinical Research for the Estée Lauder Companies, Dr. Kristin Neumann, CEO of MyMicrobiome and Mitchell James Duffy, CEO and Co-Founder and Lucile Bonnin, Head of R&D of Cambrium.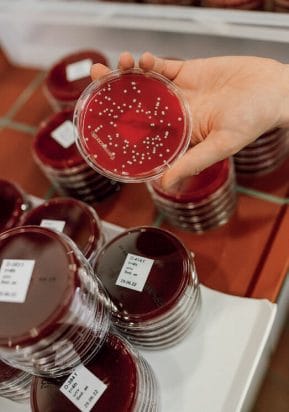 New ingredient technologies, new product claims, tech innovations, and marketplace trends all help to push cosmetics and personal care testing forward. What was once a project to safeguard consumers has progressed to not only consider safety but to also assess beauty ingredient and product efficacy.
"Historically, the level of scientific rigor typically pursued before a product was put to market mainly focused on safety, rather than efficacy," affirms Robyn Hickerson, Founder and CEO of Ten Bio Ltd, a Scotland-based research company specializing in human skin models for ex-vivo product testing. "We have been pleased," she tells me, "to see that this approach is shifting towards robust preclinical and clinical testing to substantiate claims."
"This has been driven," she says, "by both the brands aiming to differentiate themselves in the market, but equally by more-informed consumers with the desire to better understand the products they use. Ten Bio actively supports this evolution," says Hickerson, noting that it "clearly plays to strengths of our technology and our services to clients across the sectors in which we are active: cosmetics, aesthetic dermatology, med tech, and pharma/ biotech."
Study Design and Skin Tissue Models
With greater attention to efficacy – of ingredients and finished goods – come countless other advances in cosmetics and personal care (pre)clinical testing. And study design is one of the most direct ways to do something new and consequential with testing. In fact, "there is a constant need for innovation and development of good study design," according to Neelam Muizzuddin, PhD, President of Skin Clinical Research Consultants and the former Director of Clinical Research for the Estée Lauder Companies (where she worked for more than three decades designing and developing clinical research study methodologies).
Muizzuddin's research and study design work spans skin sensitivity, skin fluorescence, percutaneous absorption, skin whitening, acne, and glycation, as well as actinic and UV effects, geographical and climatic effects, and the effects of hormones and psychological stress on the skin. "Clinical studies," she acknowledges, "are costly to run." But Muizzuddin assures me that "the key to success lies in design," and "a well designed study is key to meaningful test results."
But to get meaningful results "studies also need to be carefully monitored. Contract testing labs can be most efficient; but they still need to be supervised." And, Muizzuddin tells me, "it's not enough to design a test and wait for the data." She stresses that "data needs to be scrutinized as it is obtained and not just at the end of the study."
Muizzuddin wasn't the only expert I spoke with who made it quite clear that meaningful efficacy data is the goal of testing. At Ten Bio, Hickerson explains that, "engagement with our clients will typically begin with an in-depth discussion to fully define the research questions being asked. With this information we can begin to design the appropriate ex-vivo skin study that will generate the necessary data to evaluate the biological responses of interest."
"Key points that will define a study include treatment protocols, study length, and the biological readouts. Close contact is maintained with the client throughout the project to ensure the methodology is addressing their question and will result in meaningful data," she says.
The skin models on which (pre)clinical testing is done are also being continually updated and improved. In recent years L'Oréal partnered with the biotech and 3D-human-tissue company Organovo to design and develop "skin tissue models for the development, manufacturing, testing, evaluation and scale of non-prescription cosmetic, beauty, dermatology and skin care products," according to a current report that California-based Organovo filed back in 2015.
Research institutions like RIKEN, headquartered in Wakˉo, Japan, are innovating human skin models as well. Several years ago, the team at RIKEN bioengineered skin that can grow hair (mouse hair, but hair nonetheless). And in October 2020, the researchers from the RIKEN Center for Biosystems Dynamics Research published a peer-reviewed article in Communications Biology titled, Tissue-scale tensional homeostasis in skin regulates structure and physiological function. The open-access article, covers the team's development of a human-skin equivalent that has a tension distribution more like skin on the body than previous synthetic skin models.
The team at Ten Bio are also innovating with an attention to the mechanical functionality of human skin. They however are working with actual human skin: "Utilizing surplus surgical tissue that would otherwise be discarded as clinical waste, we offer the opportunity to test products on real skin without the need to recruit volunteers. By creating an in-vivo – like mechanical environment, our unique TenSkin™ human skin model is helping cosmetic manufacturers and brands to more reliably bridge the gap between preclinical testing and clinical efficacy," says Hickerson.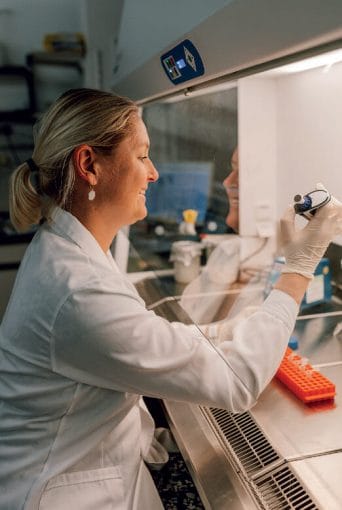 As compelling as these technical advances in skin tissue models are, our industry is thankfully also innovating to provide more inclusive testing services. "Also, and of increasing importance in our experience," shares Hickerson, "is the ability of Ten Bio to access skin tissue from across the range of skin types and ethnicities. We have found clients are increasingly focusing on the performance of their brands in the full range of skin types / melanin concentrations."
And Labskin out of York, England, commercialized the industry's first lab-grown pigmented human skin models just last year. The innovation came in partnership with the University of Bradford's Centre for Skin Sciences and has implications for not only melanated skin research but microbiome research as well.
"These new 'pigmented' models incorporating melanocytes allow Labskin to further assess safety and efficacy of skincare ingredients and formulations on a greater diversity of skin types, integrating ethnic skin with various microbiomes," explains a post on the company's site about the new skin model tech. "The presence of melanocytes on the skin model also permits the study of causes and alleviation of hyperpigmentation, creates an ideal model to study UV exposure response and phototoxicity, and opens the door to establish reproducible melanoma models for the pharmaceutical industry." More recently Labskin worked with Chanel Research to develop bio-printed skin with so-called brown or dark spots.
On the clinical testing side of things, instrumental assessments are getting updates. Late last year L'Oréal, working with STMicroelectronics, announced what Jean-Luc Lévêque, the beauty maker's Director of Prospective Research called "an important new tool among non-invasive methods that will increase the knowledge of age-related skin changes."
The TouchChip and its associated image analysis software employ silicon image sensor tech to analyze skin hydration, "[capturing] detailed, 500-dots/in. images of the skin in less than one-tenth of a second, under any skin or environmental conditions," according to a news release L'Oréal circulated in October.
New Claims Often Require New Testing Methods
When ingredient developers or brand leaders introduce true newness to the cosmetics and personal care marketplace, they of course need the support and validation of testing – but often that's testing that doesn't exist yet. Claims involving the microbiome, blue light, pollution, and climate conditions are good examples of the sort of newness that precipitates new testing methods.
As microbiome science becomes more sophisticated and beauty consumers expect brands to be microbiome aware, biotechnology research companies are developing testing methods to meet demand and deliver meaningful data.
MyMicrobiome, headquartered in Liechtenstein, is one such company. "We are developing standardized methods for microbiome-friendly certification of microbiome-related products," says Dr. Kristin Neumann, CEO of MyMicrobiome. Her company offers "the only registered certification mark for Microbiome-friendly cosmetics," or products that do not remarkably impact the form or function of the microbiome.
So this testing isn't about efficacy data. In fact, successful products here might actually be described as ineffective. Neumann explains that "usually, cosmetic products aim to improve the skin texture. In regards to the microbiome, we do not want to improve the skin with the product – quite the contrary, we do not want to see any influence on the microbiome at all!"
MyMicrobiome is not the only company in this space. California-based HelloBiome offers microbiome data collection for both research and claims; and the company is working towards building an ingredient discovery platform grounded in microbiome data.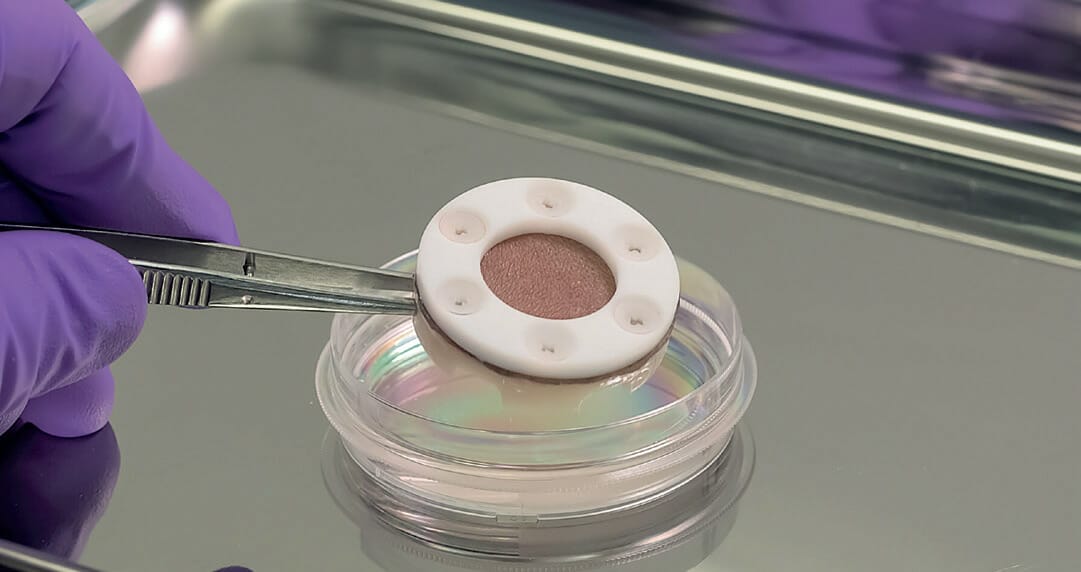 Sequential, based in New York City, specializes in in-vivo microbiome testing and claims substantiation. Sequential is growing at an impressive pace and winning prestigious industry awards, as well as partnering with other testing providers including GeneMarkers; with beauty brands like Shiseido's Gallinée; and with multinational beauty makers, most recently Johnson & Johnson Consumer to "focus on developing new methods for non-invasive genomic-based skin testing, to help Sequential add to their growing database of skin samples," according to a news item posted on the Sequential site earlier this year.
And, as Neelam Muizzuddin, PhD, of Skin Clinical Research Consultants, points out, "there are no standardized test methods to study skin microbiome. Each company reports their own methods, and none of those methods are validated for repeatability and feasibility."
But for the purposes of illustration, I want to share more detail on the tests that MyMicrobiome performs to assess the microbiome friendliness of cosmetics and personal care products. Neumann tells me that "both ingredients and finished products undergo a series of four different experiments," which she outlines like this:
(1) Microbial quality: This is a quality test of the product, making sure it is not contaminated with undesired microbes, such as E. coli, P. aeruginosa, S. aureus or Candida albicans. The test is carried out following the DIN EN ISO 17516 norm.
(2) Balance test: On our skin, S. epidermidis keeps pathogenic microbes such as S. aureus in check. This balance must not be disturbed by the product. A co-culture with both strains is mixed with the product for a certain time and then the ratio of the two microbes is compared with the untreated control group. This must not change in favour of S. aureus under the influence of the personal care product.
(3) Diversity test: A panel of the key microbes of the respective body area are cultured. A co-culture of the microbes is mixed with the product to be tested and the change in diversity is compared with the untreated control group. The diversity of the skin microbiome must be preserved with regard to the most important key microbes.
(4) Vitality test, direct and indirect: In this test we simulate the microbe-skin contact on agar plates. Here, each key microbe is directly exposed to the product. In another approach, the microbial strains are covered with an agar layer and the product to be tested is placed on this layer. This simulates the potential penetration of the product into deeper layers of the skin. The microbial growth of the two settings is compared to the untreated control group. The growth must not be significantly influenced.
Novel ingredient innovations can also warrant new testing methods. I checked in with the team at Berlin, Germany – based biotech research company Cambrium to learn how efficacy testing for NovaColl™ was designed and implemented.
NovaColl™ is, according to the company, "the first 100% skin-identical, vegan collagen. Its unprecedented micro-molecular efficacy enables it to work across skin layers to maintain, protect, and enhance native collagen."
And just this month, Cambrium published new preclinical data substantiating that the topical skincare ingredient does indeed maintain and protect and enhance native collagen – all three of which are claims that ingredients are not regularly tested for.
"We have a hypothesis and it's important to work with experts to [determine], How do you test for that? Claim substantiation is really hypothesis testing; and it's important to let the data speak for themselves," Mitchell James Duffy, Cambrium CEO and Co-Founder, tells me.
Lucile Bonnin, Head of R&D at Cambrium worked closely with third-party testing company to share information about NovaColl™ and help in the study design process. "NovaColl™ is, as far as we can tell, the most effective collagen on the market – more effective than other bio-manufactured versions as well as more effective than bovine collagen. These are wonderful claims to make," she says, "but we need to back it up."
"We are good at designing proteins," Bonnin explains. But having a third-party company "supporting us in test design and claims [is a strategy for] expanding our team and expertise."
Of course there is so much more going on in the claims and testing space today. Researchers from The University of Manchester, No7 Beauty Company, and A*STAR Research recently published an article in the peer-reviewed journal Frontiers in Aging, documenting the impact of UV radiation on the skin microbiome. And ingredient maker Vytrus Biotech (based in Barcelona, Spain) launched an ingredient earlier this year called PhotoBiome™ that "stimulates the skin bacteria to release its own natural photo-defense molecules to photoprotect itself." No doubt some innovative testing methods went into that innovation.
And back in Scotland, Ten Bio is "quite excited about a recently developed capability to evaluate skin and skin treatment responses to different climate conditions."
Hickerson explains further, saying that, "traditionally, ex-vivo skin research is conducted under standard biologically relevant environmental conditions, i.e., body temperature at 37 degrees Celsius and 90% relative humidity. While these conditions are important for skin health, the surface of our skin is generally exposed to quite varied ambient temperatures and relative humidities. For example, exposing skin to low-humidity environments can induce significant changes in its behavior and condition. We can now perform studies in these types of ambient environmental conditions to more closely simulate real world conditions and more robustly evaluate the performance of skin treatments."
Advantageous Testing Resources and Future Opportunities
Sometimes the testing itself isn't the biggest challenge with testing, which is why related services and resources show up in the B2B beauty ecosystem.
It's why beyond helping design studies, Skin Clinical Research Consultants "[specializes] in scrutiny of complex data to make sense of it using specialized mathematical and statistical applications."
"So many clinical tests bury results in an avalanche of data," says Muizzuddin. "We refine and analyze the rough data, extract meaningful insights, and provide scientific reports that are truly publishable. We also offer services to study your data and prepare manuscripts for publishing."
Skinobs! (out of France) provides a valuable service to beauty makers seeking in-vitro and in-vivo testing. For absolutely free, the platform helps ingredient makers and product developers find the right testing partners and testing methods. Site users search using an array of filters such as claim, mechanism of action, analysis method, country, subject type, and more. Results are drawn from the Skinobs! database of nearly 400 facilities around the world.
And clinical testing provider Media Lab Science helps brands share testing data, imagery, and consumer perceptions with consumers by producing high-quality social content along with all the expected testing services. This Los Angeles, California – based company prides itself on both helping cosmetic, skincare, and nutraceutical brands "prove product efficacy" and helping them to "grow and build credibility."
There is always room for improvement; and this is true in (pre)clinical testing for cosmetics and personal care.
Muizzuddin sees that the "cost of testing can be limiting. Clinical testing is extremely costly and often the study design is compromised in an attempt to trim costs. To an extent, it is understandable since not all companies have deep pockets." So there is clearly an opportunity to help beauty makers and ingredient developers economize testing.
Hickerson points to a couple of opportunities: "From our clients, we have heard that the reconciliation of preclinical data with clinical experience can be challenging. This arises by the application of unreliable test methodologies in the preclinical phase." She believes that Ten Bio is helping address this. "TenSkin™ … tissue at tension closely mimics the performance of in-vivo tests. This results in data that are much more relevant and offer a confidence in the predictability of the results attained in later clinical assessment."
She also notes that "preclinical testing on ex-vivo skin is typically performed utilizing abdominal skin tissue, primarily due to the abundance of surgical surplus. However, the properties of the skin on our body can vary depending on body site. And the evaluation of products intended for a specific area, such as the face, would ideally be done on facial skin."
Deanna Utroske is Editor of the weekly Beauty Insights newsletter and one of the most well-respected critical thinkers in the cosmetics and personal care industry today. She serves our industry as a public speaker, writer, and consultant for supply-side companies.
As a regular contributor to this publication, Deanna writes the Global Perspectives column, covering cosmetic and personal care product formulation trends, emerging ingredient science, and ingredient marketing trends impacting the future of beauty around the world.
As a public speaker, Deanna addresses company teams, higher-education classrooms, and event audiences. She's spoken at Cosmoprof Worldwide Bologna, in-cosmetics global, MakeUp in Los Angeles, NYSCC Suppliers Day, the Anti-Ageing Skin Care Conference, the International Cosmetics Innovation Conference, Cosmoprof North America, the AIRS International Conference on Genomics & Microbiomics, and many others.
Learn more and find a link to subscribe to the Beauty Insights newsletter at www.DeannaUtroske.com