Royal DSM, a global, purpose-led science-based company, is pleased to announce the appointment of Parand Salmassinia to the role of President, Personal Care & Aroma from 1 January 2023.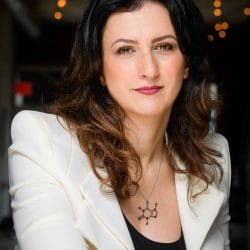 Parand, a US national, has held various leadership roles within DSM. In her most recent position, as Vice President, Personal Care & Aroma, she increased the business unit's sales growth by high double digits over the last three-year strategic cycle. She was also responsible for product management, sales, and commercial organization.
Mrs. Salmassinia graduated from California State University, Fullerton, with BScs in Biology and Psychology. She then went on to earn a Doctorate in Law from Whittier Law School and certifications in Business Management from Henley School of Management in London, and in Project Management from INSEAD in Fontainebleau, France. Since completing her studies, Parand has acquired more than 20 years' experience in the personal care industry, managing key global accounts and projects for Seppic and Merck and then taking responsibility for Induchem's business in the Americas.
Speaking of her appointment, Mrs. Salmassinia said: "I'm taking over a business that's going from strength to strength and showing exceptional resilience despite all the challenges it has had to face due to recent global events. Based on its results, I have every confidence that our team and strategic choices have created a strong foundation for the future and I'm looking forward to consolidating and building on the cornerstones of this success — customer-centricity, impeccable services and sustainable practices."
In her new role, Mrs. Salmassinia succeeds Gareth Barker, who will be taking the lead on Global Marketing and Business Development at DSM Health, Nutrition & Care. She will become a member of Health, Nutrition & Care leadership team and report to Philp Eykerman, President, Health, Nutrition & Care.
About DSM
Royal DSM is a global, purpose-led company in Health, Nutrition & Bioscience, applying science to improve the health of people, animals and the planet. DSM's purpose is to create brighter lives for all. DSM's products and solutions address some of the world's biggest challenges while simultaneously creating economic, environmental and societal value for all its stakeholders – customers, employees, shareholders, and society at large. The company was founded in 1902 and is listed on Euronext Amsterdam. More information can be found at www.dsm.com.
For more information