If there would be something like a casting show "cosmetic actives got talent", then retinol, ie vitamin A(1) and it's derivatives (and related retinoids), would for sure be among the top favorites. And also, if there would be a ranking of the final customers most trusted cosmetic actives, one should look for the vitamin A's on the top ranks. So every year numerous Vit A products are launched successfully.
Reason for the wide spread use of retinoids in cosmetic formulations is the comprehensive anti aging efficacy: effective treatment of fine wrinkles, improving skin strength and elasticity by promoting collagen, hyaluron and elastin formation. Additional antimicrobial and immune boosting properties and overall acceleration of the skin renewal process.
But, every rose has it's thorn, with Vit A it is possible to exceed, taking into account the summed up possible sources (dietary
uptake, food supplements and cosmetics), the tolerable upper intake level (UL), leading to a hypervitaminosis A, which, if it becomes chronic, can lead to serious health issues. The bandwidth between recommended daily intake (3330 IU [DGE]) and UL (10000 IU [SCF, 2002; EFSA, 2006]) is relatively small, leading to recommendations of the German BFR (German Federal Institute for Risk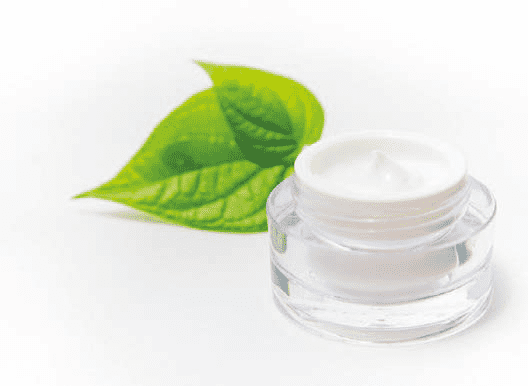 Assessment) not to use Vit A in lip care and body care and to restrict the use in daily face care and hand care to a maximum amount of 10% of the UL (BFR 005/2014).
So, there is growing interest in cosmetic actives, that exhibit retinoid-like activity without structurally being retinoids. This quest was successfully solved by finding the Transforming-MC Beauty ScienceGrowth-Factor-β-2 (TGFβ2). Lipotrue has lately introduced a plant- TGFβ2, produced via their "wild-plants-as-biofactory-product-platform", named RENESEED™.

This plant based active is retinol like, as it activates exactly the same SMADs metabolism pathway to induce the collagen production that Vit A uses and like Vit A it brings a great variety of valuable anti- aging activities: Collagen I boosting, wrinkle smoothing, promotion of skin thickness, elasticity and firmness, pore size minimizer and moisturizer.
Indermal is following a different path to a "safer" Vit A: Indermal has developed "targeted" Liposomes, that can deliver actives specifically in certain depths of the skin, depending on the mechanism of action.



So they offer an encapsulation system, DDS, that delivers actives in the deep epidermis layers. Penetration studies demonstrate, that the amount of retinol penetrating into the basal layer is 12.5 times higher if encapsulated in DDS compared to free retinol, which on the other hand means, presupposing the effect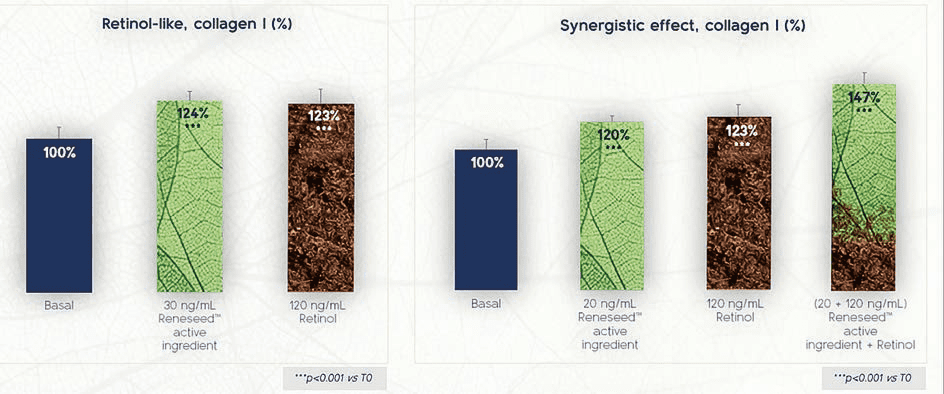 of retinol is happening in the basal layer, that only one eighth of the total retinol in the formulation is needed to achieve the same effect.
MC Beauty-Science is now going to combine these two strategies of "safer Vit A" by combining the innovations our partners:
The use of targeted DDS encapsulation to reduce the total amount of Vit A necessary in the complete formulation to achieve a certain level of Collagen promotion will be combined with the partial replacement of Vit A by RENESEED™, not only further reducing the Vit A content, but also enhancing the collagen production further by utilizing the proven synergy between Vitamin A and RENESEED™.
Recently, the launch of the MC DDS Collagen Blast is being prepared, we expect the actual launch for the second half of 2022.
We develop and produce your cosmetics and proactively provide you with high-end innovations that we are constantly devel-oping in our R&D laboratories using the newest scientific findings in dermatology, botany and biochemistry. All primary materials and bulk productions are being tested in our microbiological lab-oratory. The most innovative active ingredients, natural oils, masks in various materials as well as packaging solutions are our strength beside formulations and production.
With a Team of international specialists we do research, developing, producing and assembling in small as well as in big batches. Due to strong cooperation contract we count with different production sites which allows us to offer to our customer a tailor made solution. We are able to offer production sizes between
30 Kg to 4.000 Kg and of course bigger than this due to the possibility to work in 3–4 shifts.