The winners of the 2022 Sustainable Beauty Awards were announced at a dedicated awards reception in Paris earlier this week. Organised by Ecovia Intelligence, the aim of the Sustainable Beauty Awards (www.sustainablebeautyawards.com) is to give recognition to operators who are pushing the boundaries of sustainability in the beauty industry.

New Sustainable Product
Lush (UK) is the winner with Naked Mascara. The solid make-up product has no packaging; the brush is made from bio-based materials and the ingredients are produced from organic agriculture.
O' right (Taiwan) is runner-up with its Caffeine Melanin Botanical Scalp Revitalizer, a natural alternative to hair dyes.

Sustainable Ingredient
Laboratoires Expanscience (France) gets top prize with Calybiota® Bio. It is obtained from the calyx of red kapok flower, sustainably sourced from Burkina Faso. The main application of the COSMOS certified natural extract is in feminine hygiene products.
The two runner-ups are Coffee Resurrect (Ethiopia) with CROIL and FIBER, and Fattoria La Vialla (Italy) with OliPhenolia.

Sustainable Packaging
Clariant (Switzerland) is winner with Design4Circularity Packaging Concept. In partnership with Beiersdorf, Siegwerk, and Borealis, the packaging concept involves the use of a recyclable colourless bottle with 100% post-consumer recyclate (PCR) labelled with a printed, de-inkable full-body shrink sleeve. This enables complete sortability in current recycling infrastructures. Lumene (Finland) is runner-up with Monomaterial Pump, making the packaging easy to recycle.

Sustainability Pioneer
Weleda (Switzerland) gets top prize for highlighting the importance of soil health via its Save Earth's Skin campaign. It set up the Living Soil Camp and Inner Work Day this year. By making the link between soil and planet health, the Save Earth's Skin campaign could help reverse decades of soil erosion.
Lush Cosmetics (UK) is runner-up for eliminating packaging and encouraging circularity.

Sustainability Leadership
AAK Personal Care (Sweden) is the winner. It is building sustainable supply chains for vegetable oils and is a pioneer in setting up traceable value chains for shea butter, coconut oil and canola oil.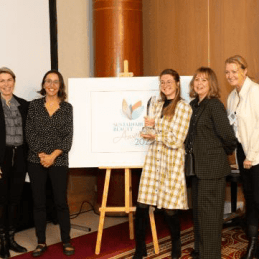 Apivita (Greece) and O' right (Taiwan) are joint runner-ups. Both companies have introduced a range of sustainability initiatives that cover packaging, raw materials, production processes and waste management.

The winners and runner-ups were announced at the Sustainable Beauty Awards reception, hosted at the Paris Marriott Champs-Elysées on the evening of 7th November 2022. The event was co-hosted alongside the European edition of the Sustainable Cosmetics Summit.
About the Sustainable Beauty Awards

Organised by Ecovia Intelligence, the aim of the Sustainable Beauty Awards is to give recognition to operators who are pushing the boundaries of sustainability in the beauty industry. More information is available from www.sustainablebeautyawards.com

About the Sustainable Cosmetics Summit
Since 2009, the Sustainable Cosmetics Summit has been covering sustainability issues in the cosmetic & personal care industry. The international series of summits now takes place in the major geographic regions of the world. The 14th European edition was hosted at the Paris Marriott Champs-Élysées hotel on 7-9th November 2022. More information is available from www.sustainablecosmeticssummit.com

About Ecovia Intelligence
Ecovia Intelligence (formerly known as Organic Monitor) is a specialist research, consulting & training company that focuses on global ethical product industries. Since 2001, we have been encouraging sustainable development via our services portfolio: market research publications, business & sustainability consulting, technical research, seminars & workshops, and sustainability summits. Visit us at www.ecoviaint.com

Further Information
For more details on the Sustainable Beauty Awards, please contact:
Ms. Isis Chanel
PR & Marketing Events
Tel: (44) 20 8567 0788
Email: press@ecoviaint.com