A conversation with Marine Pipyn, Technical Sales Manager Personal Care, Brenntag Benelux
EURO COSMETICS: Lotions are among the most-used cosmetic products. With your optimized cosmetic GMP mixing system in Moerdijk in the Netherlands, you assist your European customers with the production of cosmetic lotions and liquids. What capacities do you have available there?

Marine Pipyn: The maximum mixing capacity per batch is 24 tons. A batch production takes 6 to 8 hours – depending on the formulation – and the plant can produce up to 100 tons per week. As our production installation is part of our specialty warehouse, we have a significant capacity available for the storage of raw materials intended for lotion production. With our GMP filling line, Brenntag can offer waterbased liquids in IBCs and in bulk.

EURO COSMETICS: For which applications is your mixing system suited?

Marine Pipyn: Our production installation is designed to produce water-based, low viscosity lotions. Therefore, we can offer premixes of water-soluble liquid raw materials, mixtures of lotions intended for wet wipe impregnation and mixtures of sprayable lotions.

EURO COSMETICS: You have a team of specialists on-site for mixing, filling, and storage. What exactly does the work look like there?

Marine Pipyn: We have a large and experienced team involved in our lotion producing business. First, we have two dedicated and very experienced operators in charge of the mixing and filling of our aqueous based liquids. Other people responsible in the process are the plant manager, two quality specialists, a senior production planner, dedicated drivers, and a technical sales manager. Formulation engineers dedicated for the lotion evaluation and formulation optimization are at our customers' disposal as well. Furthermore, there is close interaction between the management and the operations manager.
Intensive communication and regular team meetings between all parties and specialists involved are key elements in the creation of our high-quality products.
By creating an open and positive environment for our employees we want to encourage them to be attentive and contribute to continuous improvement and optimization of our current production procedures, flows and processes. Only then we can obtain the best quality product.
"We have a large and experienced team involved in our lotion producing
business"

EURO COSMETICS: And what challenges are there in particular for the production of cosmetic lotions?
Marine Pipyn: Firstly, we can confirm that we are GMP Cosmetics certified. However, we not only want to meet the ISO 22716 standards, but we also strive to exceed them. Therefore, earlier this year, Brenntag has invested in upgrading and re-designing the overall production facility, allowing us to offer a product which meets even higher quality requirements and enabling us to offer a broader product range. For example, we have invested in a new air filter system which produces pharma grade air.

EURO COSMETICS: And to what do you have to pay attention to guarantee the prevalent GMP standards?

Marine Pipyn: We evaluate our current processes and defined procedures on a regular basis. By taking a critical look at these and asking ourselves where we can improve, we can ensure that we have optimal production conditions and procedures.
We have built in control and check points in our production protocols and have these checked by multiple people (4 eyes principle).
We have also set up an internal self-inspection program which is fully implemented
and has demonstrated effectiveness as a tool for maintaining the system.

EURO COSMETICS: Seamless quality assurance is an important component of the
manufacturing of cosmetic products. How can you ensure this for your customers?

Marine Pipyn: Microbiological safety is one of the main points of attention in the production of aqueous based liquids. To guarantee microbiological safety, we analyze a multitude of critical points in our production system on a weekly base. Additionally, we test our rinsing water for total aerobic count, yeasts and molds, and specific pathogens. These results are registered weekly, analyzed, reported, and discussed internally, allowing us to set up and take preventive and corrective actions
should this be required.

EURO COSMETICS: How do you optimize your employees' workflows and ensure adherence to quality standards?

Marine Pipyn: By being critical towards the current workflows put in place and having open discussions with the specialists to obtain their honest input on what aspects to improve and pay extra attention to. Also, we organize regular trainings which include a (self) test to ensure that all information and regulation presented were clear to our employees and they can therefore implement the workflows.

EURO COSMETICS: A lot of experience is required for the manufacturing process.
How do you train your employees?

Marine Pipyn: It is essential that our specialists involved in the production, filling, handling, and transport of our lotions are aware of their behavior and always understand the potential causes a misbehavior could imply. Therefore, we organize – on a regular base and for all persons involved in this activity – trainings by a specialized external party.

EURO COSMETICS: To achieve a homogeneous product, long process times are often required. How do you guarantee the product quality and consistency under accelerated production conditions?

Marine Pipyn: A few steps need to be taken to be able to guarantee this. At first, we evaluate on lab scale how the formulation behaves and what processing conditions (mixing times) are required. In the next step we perform a pilot test on our production installation itself, before upscaling to full batch size. As different formulations behave differently, it is essential to perform these pilot tests (if required more than once). Combining then the outcome of these pilot tests with our experience and expertise in the matter enable us to define the best production conditions for that specific blend.

EURO COSMETICS: For a shelf-stable product, it is critical to remove naturally occurring microorganisms. What tests are conducted for which products?

Marine Pipyn: An external, independent lab specialized in personal care products performs all our microbiological tests. For each batch we measure total aerobic count, yeasts and molds, and six specific pathogens – specifically dangerous/relevant for these kinds of products (P. aeruginosa, S. aureus, C. albicans, E. coli, A. niger, B. cepacia).
Same analyses are performed for the demineralized water used for every batch as well. All analyses are performed according to the relevant/defined ISO methods.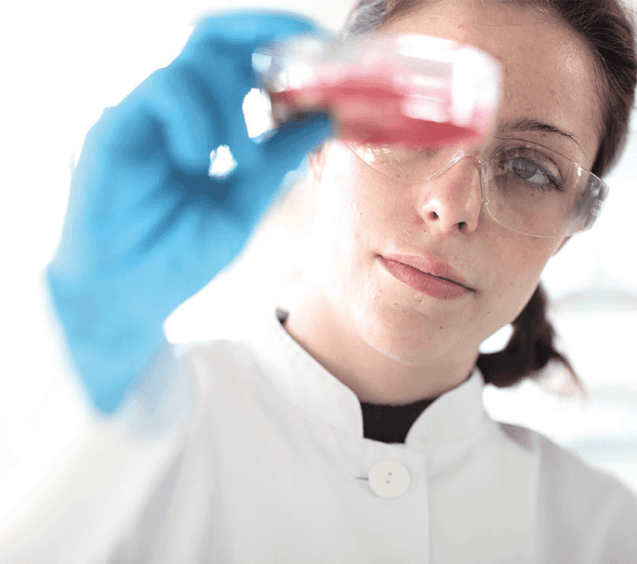 EURO COSMETICS: In your cosmetic laboratories, you not only develop custom-tailored recipes but also optimize existing formulations to create the "perfect" product for the customer. What tests are required for this?

Marine Pipyn: In our Application and Development Center our formulation engineers perform sensorial analysis, evaluate the product on characteristics like sensory and flow behavior, foam, and finish on skin.
Depending on the type of the product, we perform additional tests, e.g., if the blend
is used for wet wipe impregnation, we will perform sensorial analysis for the impregnated wet wipes as well. We can perform challenge tests, too.

EURO COSMETICS: Order processing is a critical success factor for every company. What does this look like for you?

Marine Pipyn: Brenntag attaches great importance to close customer contact as well as open, efficient, and transparent communication. Therefore, we have a dedicated customer service responsible for the order processing for our cosmetic blends.
Via our online platform, Brenntag Connect, our customers can place their orders online by simply clicking on the 'add to cart' button and are able to always check and follow their order status. Once the order has been received, we first consult the local Brenntag experts in charge of planning and stock management. Once the planning has been organized and raw material availability has been confirmed, the storage capacity should be checked (if relevant of course). Then the transport can be arranged before confirming this to the customer by the responsible customer service contact. As we are aware that planning has become a very challenging matter – for sure in these uncertain times – and irregular consumer consumption can often not be foreseen, we at Brenntag try to be as flexible as possible towards our customers regarding production schedule and delivery dates.

EURO COSMETICS: Thank you for the conversation.

Contact:
BENELUX: marine.pipyn@brenntag.be
DACH: dennis.neumann@brenntag.de