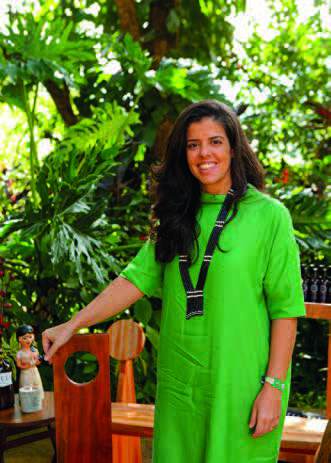 A conversation with Cris Dios, Cosmetologist and founding partner of Grupo Laces
EURO COSMETICS: Cris, do you want to start by telling us a little bit about yourself, your visions and Grupo Laces?

Cris Dios: Our story began in 1987 with the opening of the first hair spa – Laces and Hair – by my mother Mercedez Dios. We have been pioneers in healthy treatments for hair in Brazil since then. Laces' premise has always been to treat hair with the excellence of a natural and organic concept, combining all our work with environmental awareness.
Sustainability should be present in each and every action of consumerism – as a single act towards awareness and the planet's balance. We can do our share by taking action individually, which will inspire the whole. We are active players in the transformation of [our current consumerism model] into a more conscious and sustainable one. Our attitude, our choices will shape our planet's future.

EURO COSMETICS: Has the concept of sustainability always been present in the Group's actions?

Cris Dios: ESG (Environment, Social, Governance)has been in our company's DNA, and our practices, since its creation in 1987. Today we are a group formed by the brands: Laces and Hair, LCS, Cris Dios Organics, C/Alma, Bioma Salon Aveda, MarketPlace Slow Beauty and Carbon Limited.

EURO COSMETICS: You were invited to join COP27 in Egypt this year for being an example of sustainability as a Beauty company in Brazil. Why did you receive the invitation?

Cris Dios: The invitation came unexpectedly, through an English NGO, which organises and invites institutions and companies to participate in the COP. They researched our story and invited us. It was a great surprise and we're very honoured to represent Brazil at the event. We believe that the invitation came for all that we do, for the construction of decades of our story. From the beginning, sustainability has underpinned all of our group's actions.
"I learned to have a relationship of respect and reverence for nature. They [the plants] need water, light and food. It is an inverse logic that plants have the function of serving us. It should
be a mutual exchange, and above all, we need to ask nature's permission to seize it."
EURO COSMETICS: What are the sustainability actions carried out in Grupo Laces?

Cris Dios: Laces salons have the smallest water footprint of a beauty salon. We prioritise energy efficiency through a clean matrix, relying on solar energy that is captured with photovoltaic solar panels and light tubes. We treat rainwater for hair washing employing reverse osmosis technology whose main objective is to separate water from mineral salts, purifying it and making it suitable for use in hair washing sinks. Afterwards, it is treated again to be reused in the bathrooms and garden. The water is heated through photothermal plates, which work alongside an intelligent boiler that has the function of heating the water.
Within the range of our services, the use of a tool called Roll Meches allows us to make highlight reflections in the hair in a reusable way, without the use of foil. Through this action, since 2006, we have stopped disposing of approximately 11 tonnes of foil in the environment.
We have had our own organic certified factory since 2015 and in addition to all the care with choosing the ingredients for our cosmetics, the packaging is made from recycled material and uses a biodegradable resin called Go Green, which has a shelf life of up to 5 years.
Our group also neutralizes and offsets the emission of greenhouse gases – one of the biggest reasons for global warming – from all our activities (waste generated, electricity, transportation). In 2021, we also acquired the specialized company Carbon Limited, which helps minimize the impact on the environment through the planting of trees.

EURO COSMETICS: How many cosmetics brands does the Group have and what kind of cosmetics do you make?

Cris Dios: We have 3 brands devoted to face, body and hair care, and the home care line – LCS, Cris Dios Organics and C/Alma.
We have our own factory and the first in Brazil with an Ecocert certification; all of our products are carefully created and aimed at delivering performance and green technology.

EURO COSMETICS: What makes the products created by Grupo Laces so special?

Cris Dios: I learned to have a relationship of respect and reverence for nature. They [the plants] need water, light and food. It is an inverse logic that plants have the function of serving us. It should be a mutual exchange, and above all, we need to ask nature's permission to seize it. Perhaps our differential is in this DNA of ours, in making use of nature in the creation of our products at the same time as we replace what we take from it.
When we talk about products, apart from the ingredients, the packaging is made of this recycled material and has a biodegradable resin called Go Green, which has a shelf life of up to 5 years, unlike the traditional ones already known in the market – which take up to 200 years to decompose.
A choice of raw materials and tracking of them is made: using less material, deforesting less and making them yield far more than the current market practice. In 2016 we introduced the first vegetable dye in Brazil. It took years of research to develop formulas based on natural ingredients and with excellent efficacy. Using natural ingredients also benefits our customers who are offered products that can be used by allergic people, pregnant women, oncology patients or those undergoing severe health treatments. What we use on our hair and skin is as important as what we eat. We take great pride in being a leading player in local, regional and global transformation, delivering healthy hair and skin through our products and services.
EURO COSMETICS: Could you talk further about the ingredients used in the brand and the research and development process of the lines like?

Cris Dios: Our ingredients are based on: avocado, she and murumuru butter, baru (popular Brazilian Portuguese name for Dipteryx alata), almond and calendula oils, phytokeratin, essential oils, silicon and botanical extracts. Our development process relies on the participation of a laboratory in São Paulo, our technical team in the South and the experience of over 30 years of service.
As our factory is EcoCert certified, our raw materials are only admitted with traceability documentation, certifying that the process does not involve child or slave labour, deforestation or any other type of predatory action against the environment.
We work exclusively with documented raw materials, which are not tested on animals or bear ingredients of animal origin.
We also work very closely with raw material suppliers with research initiatives in green technology and new ingredients that replace plastic and toxic agents.
Finally, as I have mentioned previously, our packaging is made from recycled plastic, it is biodegradable and can be recycled, and we also offset all of our carbon output.

EURO COSMETICS: You have bought a carbon offsetting company. Why did you decide to invest in this type of company?

Cris Dios: Our group has been carbon-neutral for over 5 years. Since the beginning, sustainability has always underpinned all the actions of the Group, which has always worked with reverse logistics – a set of procedures and means to enable the collection and return of solid waste to the business sector for reuse or another environmentally appropriate disposal. With the purchase of Carbon Limited, we started working with reverse carbon logistics, balancing and offsetting greenhouse gas emissions to reduce the toxins generated on the planet to mitigate eventual damage to the environment.
We help to reduce the impact on the environment through reforestation in deforested areas, which helps to generate more oxygen in the air. In order to compensate for the carbon generated by the processes, nowadays Laces neutralises our own footprint as well as that of suppliers and partners and has already contributed to the neutralisation of 200 tonnes of Co2 released into the atmosphere, representing the plantation of 500 trees, equivalent to the area of a football stadium.
We believe that a contemporary business ecosystem should integrate development into a social and environmental balance. The acquisition of Carbon Limited and carbon neutralisation has always been our goal and is in total synergy with our purpose, it is our bet on the future.

EURO COSMETICS: Besides Environmental ESG can you tell us more about your social and governance work?

Cris Dios: Laces created the DHL (Laces Human Development in Brazilian Portuguese) project, where we take care of more than 300 people who receive a series of benefits – collaborating with their quality of life and motivating them to grow as professionals. Within the project, there is the Academia Laces (Laces Academy in free translation from Brazilian Portuguese), where the team is created and prepared to work exclusively through the unique code – a program in which the employee is recruited without previous market know-ledge and is trained according to the natural Laces concepts. The Master Laces project takes care of beauty market professionals that come from other hair salons through Bioma, the group's new business platform.
The career plan allows our employees to migrate and grow within the company. Besides training, Laces and Hair has as our guiding principle for the human development and personal growth of our employees. Therefore, we annually promote large bonuses and motivating actions for our team, such as trips to Germany, France, Italy, Argentina and the USA, for professional and cultural experiences. The programme also offers stimuli for the employee to join and attend college, buy a car and even buy their own house.
Regarding social projects, our group contributes to the Indigenous Tribe of Kamayurás of Alto Xingu (in the Northern Region of Brazil), Ballet Paraisópolis (ballet classes in a poor community in the city of São Paulo) and the NGO Bem Querer Mulher (an organisation created to fight domestic violence against women in Brazil).

EURO COSMETICS: Thank you for the conversation.