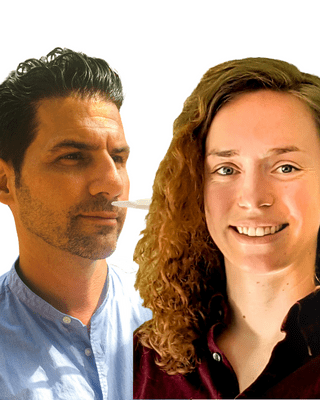 A conversation with Sébastien Lienhart, Senior Perfumer, and Megan Warnicke, Junior Marketing Manager, Joh. Vögele KG, Lauffen
EURO COSMETICS: The last few years have been extremely tumultuous, especially influenced by political and environmental crises and of course, by the pandemic. What has changed in the fragrance market and, more specifically, for the consumers?

Megan Warnicke: We've seen huge changes in the market. Consumers have had to process major events politically, economically, environmentally, and regarding their health. Naturally, this has had a noticeable effect on their purchasing behavior.
Because the pandemic is practically over but people still feel extreme levels of uncertainty and anxiety, we have been presented with an interesting challenge that we wanted to solve in the context of fragrance. At the beginning of the pandemic people were spending substantial amounts of time in their homes and travel was significantly restricted. Now, 3 years later, home office seems to have become common practice. All of this has led to an increase in the value of the meaning of "home". The comfort associated with being at home has also gained meaningful importance. The question for us then became what do "home" and "comfort" smell like?
With our new trend presentation "Ambiences for Space(s) and Zeitgeist", we have attempted to transform the safe feeling of being at home, normally created through candles, reed diffusers, etc., into other application categories, that can be experienced even when people leave their homes. Thankfully our amazing perfumery team was up to this creative challenge!

EURO COSMETICS: Sébastien, how did you translate the feeling of home into other applications? Is it possible to capture comfort in a fragrance?

Sébastien Lienhart: With help from our consumer panel, we identified 6 different ambiences or "worlds of fragrance" that aim to connect with the different concepts of "home" and "comfort" that people have. I then implemented this directly into fragrance-form by selecting fragrance elements for my compounds that directly related to the panelist-chosen ambience attributes.
At Vögele, I am also encouraged to think beyond the bounds of what is already being done on the market. For our new trend presentation, I wanted to rethink where fragrance inspiration comes from. I took fragrance themes that translate the feeling of "being at home" and of "feeling well" and transformed them into proposals for cosmetic applications, such as in shower gel and body lotion. In the fragrance industry, this generally works the other way around. Here, it was a "Trickle-Up" process.

EURO COSMETICS: How does Joh. Vögele KG successfully manage this development work in the context of the difficult raw material market?
"With help from our consumer panel, we identified 6 different ambiences or "worlds of fragrance" that aim to connect with the different concepts of "home" and "comfort" that people have."

Sébastien Lienhart

Megan Warnicke: In the last few years, we have tried to offer and deliver new fragrances, as well as our established portfolio, that our clients have come to expect from us, as cost effectively as possible. Because we have over 15 months of inventory across our campuses in Lauffen and Hamburg, we were able to master this difficult situation and have received feedback from clients that we have overcome price increases, that affected most of the market, in a much better way than other competitors.

Sébastien Lienhart: From a perfumer's point of view, a difficult raw material market encourages me to focus on the price/performance ratio of each single raw material that I put into a compound. Each material should achieve maximal performance at a minimum concentration level. With that in mind, we can use all of our creative skills at a cost optimized level.
Additionally, when it does happen, that a material is scarce, we also have the ability to create replacement materials. For example, this year I created a replacement base for Guaiac wood oil with the trade name Guajolá Supra, that is a just as high quality as the original oil. Plus, it's at a comparable price point, if not better than the original.

EURO COSMETICS: How do you guide and consult your clients in the development work? Alongside their other requirements, are you customers looking for more natural perfume oils than before?

Megan Warnicke: It really depends on how the client positions themselves on the market. We do quite a bit of research and speak extensively with the client about what their needs are before we develop tailor-made fragrances for them.
Recently, we also took a deeper look into the Natural Cosmetics market. Although there is a demand for Natural Cosmetics, our clients and end consumers must pay more attention to where every cent is being spent. Especially in difficult times, consumers tend to trade their environmental consciousness for less expensive products. Consequently, manufacturers offer products at different price points and to different degrees of naturalness. This is then our role to offer fragrances that support the positioning and claims of the brand or product line, i.e. from NaTrue certifiable to conventional fragrances with a natural appeal, like our NatureTrail line.
EURO COSMETICS: What challenges do you expect for fragrance development in the future?

Megan Warnicke: It's no question that the times will continue to be turbulent. For us, this means keeping our eyes and our ears open to listen to the market and to our clients. It also means that we must continue to create tailored solutions to each specific client based on a careful evaluation of their positioning, needs, price point, and regulatory requirements. It will be a mixture of crisis management, creativity, forward thinking, well-planned and executed procurement, and responding quickly especially when a new tendency or crisis arises on the market.
"We do quite a bit of research and speak extensively with the client about what their needs are before we develop tailor-made fragrances for them."


Megan Warnicke

Sébastien Lienhart: From the development side, we will definitely need the context of the market, the client, and the product to unfold our full creative and technical potential. And we need to be able to react quickly while still expressing our passion for great fragrances.
This means customized development exclusively with raw materials that fulfill their purpose. Getting the best out of price performance from a raw material without forgetting creativity will be important. We're very optimistic about the future and are excited about the opportunities to come!

EURO COSMETICS: Thanks for the conversation!