A conversation with Miguel Cabello, CEO of MC Beauty Science and MC Actives about his personal success story and innovative products
EURO COSMETICS: Miguel, where have you worked in your professional career?
Miguel Cabello: I was always occupied with chemistry! That started when I was at what was then Hoechst AG and continued through my positions at Clariant, Bode Chemie, Repsol, and finally into the cosmetics industry. Here, I started with Lipotec as Managing Director for the German division that was responsible for German-speaking Europe, Northern and Eastern Europe, incl. Israel. When Lipotec was sold, I started to set myself up independently via various small posts in industry, among others at a company for which I developed an eyelash serum, one that is still being sold very successfully in the USA today. Thanks to a new cooperation with Lipotrue, I returned to effective ingredient chemistry. This is still the cornerstone of my independent activity today.
EURO COSMETICS: And of which milestones in your career are you especially proud?
Miguel Cabello: I am especially proud of having scaled MC Beauty Science GmbH up to its current level all by myself, without outside capital.
EURO COSMETICS: Do you believe that there's a formula for being a successful entrepreneur? What's your secret?
Miguel Cabello: I think that if you DO SOMETHING, you will succeed.
Of course, it's important to know your way around in an industry in which you can become independent and it's enormously important to have good contacts and skills. You have to be a good contact person for your customers and take care of them. The word "luck," which people use all the time, is something that only happens if you do something!
EURO COSMETICS: What was your inspiration for establishing MC Beauty Science and last year, MC Actives?
Miguel Cabello: MC Beauty Science is the company that provides our bread and butter. It has grown since we have united good partners in our portfolio with Lipotrue, Nanovex/Indermal, and Microalgae Solutions. Good and effective, but especially well-documented products paired with good market access are a guarantee of success.
MC Actives arose from a cooperation with Microalgae Solutions of Madrid, which had an outstanding and patented technology, but wasn't strong enough in marketing to sell the products around the whole world. Via an investment, we created this cooperation; MAS develops, researches, and produces, and MC Actives ensures sales around the world as the owner of the brand. This way, we were able to help a partner grow, and on the other hand, we made MC Beauty Science stronger with its own group of active ingredients.
EURO COSMETICS: Your company offers biotechnological high-quality active ingredients from phytoplankton consortia. Can you please tell us more about this?
Miguel Cabello: As I said, my partners have a very nice, patented technology that mimics nature, so that the phytoplankton extracts are much richer in vitamins, proteins, minerals, peptides, saccharides, etc. than phytoplankton extracts manufactured in the traditional manner.
Here, we are working according to the motto that what resulted in the formation of our world 3700 million years ago is something that we can't make better synthetically. Thus, we let not just one, but several species cooperate with one another, and we leave their microbiomes intact so that important metabolites are formed this way too.
Thats the holistic thought about this technology, and here we're building on the products' nature and sustainability.
Here, we are working according to the motto that what resulted in the formation of our world 3700 million years ago is something that we can't make better synthetically
EURO COSMETICS: The cosmetics industry is always reinventing itself, and every day, people are looking for new active ingredients that will make care products even more active. What is special about your product line?
Miguel Cabello: Surely the holistic thought behind it without disregarding effectiveness. Today, consumers are very careful about what they use, and this critical examination has increased due to the pandemic. It's no longer sufficient to present products that sound good or that have been used in effectiveness studies; consumers are looking at the details. And we take our natural, holistic thought a step further, for this is necessary so that our consumers feel good and safe when using our products. Added to this is that they are designed to consume as few resources such as energy and water as possible, and where it's possible to use everything that comes from our system.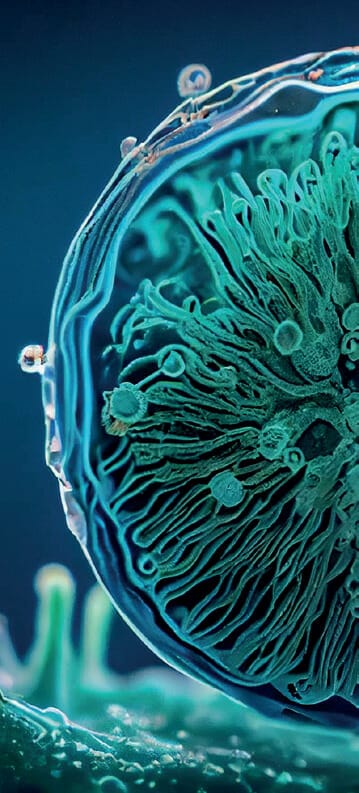 EURO COSMETICS: At in-cosmetics in Barcelona, you successfully presented your new effective ingredient Osmocean Phycoskin® (OSM PSK), an upcycled marine ingredient that naturally smooths out wrinkles and fine lines. What's special about this active ingredient and what technology underlies it?
Miguel Cabello: Here's a clear example of how we work. Osmocean is an effective ingredient that arose through the upcycling of a biomass from our production of another effective ingredient. This biomass was stressed with higher salt content and high UV radiation in order to mimic what happens when phytoplankton are washed ashore by waves and lie there until they are washed back into the ocean. Only nature can do what happens here. The phytoplankton develop defense mechanisms in the form of organic osmolytes; these mean that the environmental moisture can be absorbed from the cells, and they don't dry out.
EURO COSMETICS: What effects can be achieved with Osmocean Phycoskin®?
Miguel Cabello: The extract plumps up our skin, pressing out the wrinkles. In addition, we get an additional 44% procollagen I and corresponding values for the anti-wrinkle test.
EURO COSMETICS: And what have the tests shown about wrinkle reduction?
Miguel Cabello: There were significant improvements in both length (approx. 35% on average) as well as in depth (approx. 27% on average). Individual values exceed 44% in length and approx. 35% in depth.
EURO COSMETICS: MC Actives hasn't even been active on the market for six months, yet you have succeeded in having a famous woman from teleshopping present products you have developed for the first time; this will happen in just a few weeks. How did this happen and what are you allowed to tell us about this?
Miguel Cabello: And that's not the only new news, for in a relatively new but already well-known brand, we have succeeded in developing a "tailor-made" product. Unfortunately, I cannot reveal either the brand or this woman's name since the products are only now being launched and are therefore still confidential.
How did this happen? As a result of good contacts and market presence, but especially because people trust us; this isn't our first project, and hopefully it won't be the last either.
Osmocean is an effective ingredient that arose through the upcycling of a biomass from our production of another active
ingredient
EURO COSMETICS: And which other pro-jects are planned?
Miguel Cabello: We're working on an active ingredient that could revolutionize sun products, but it's still confidential …
We are also working on various projects with large customers; these have been in progress for many months. One thing is sure: MC Actives will use existing technology to produce other interesting products, and also to expand the search for technologies in order to expand its portfolio.
EURO COSMETICS: Miguel, thank you very much for the conversation. We wish you great success.