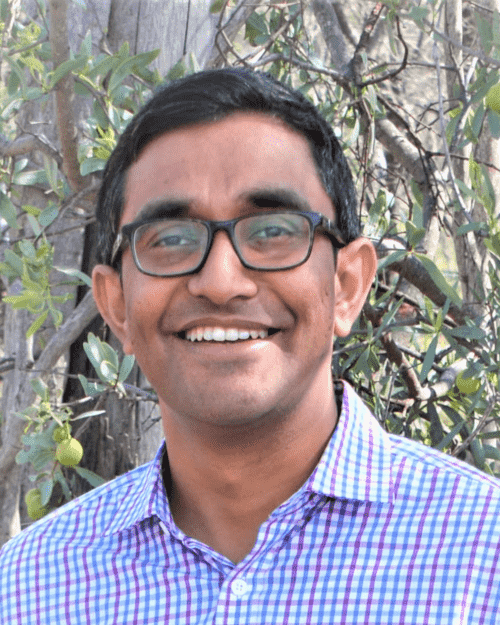 A conversation with Dr. Dhanushka Hettiarachchi Ph.D, Product Manager, Quintis Sandalwood
EURO COSMETICS: Quintis Sandalwood is the world's leading supplier of sustainable premium Indian sandalwood, one of the most extraordinary and precious tropical woods in the world, and wild harvest Australian sandalwood. Fragrance and cosmetic manufacturers love its oil. Can you tell us more about it?

Dr Dhanushka Hettiarachchi: Quintis distributes its high-quality, consistent, and globally-certified oil, logs, chips, and powder to top brands within industries including fragrance, cosmetics, aromatherapy, incense, and Traditional Chinese Medicine.
Our Indian sandalwood oil has over 20 international certifications including being approved on the Chinese Inventory of Existing Cosmetics Ingredients, it is listed as a safe ingredient with the US Food & Drug Administration (FDA), and meeting the standards of the British Pharmacopoeia, so there is great opportunity for this precious, medicinal ingredient to be considered a high-quality replacement for CBD oil.
From its skin benefits such as anti-tyrosinase and antimicrobial activities, through to its calming properties, Indian sandalwood oil is the perfect ingredient for holistic cosmetics applications.
EURO COSMETICS: Indian sandalwood oil is an exciting newcomer to cosmetics and skincare with scientifically proven benefits. Which ones and where is the difference to CBD?

Dr Dhanushka Hettiarachchi: Although Indian sandalwood may not be widely known today as a cosmetic ingredient, it has a long history of use and was first mentioned in the Ayurveda text 'Charaka Samhita' in 200 A.D as a topical application for skin protection and brightness. Since then, the use of sandalwood powder and essential oil for both medicinal and cosmetic purposes have been recorded across several cultures and geographies. Today, science has proven what our ancestors obviously knew about the therapeutic benefits of sandalwood in skincare.
One of the main advantages of Indian sandalwood oil is the volume of research that has been conducted into its efficacy – it has proven antioxidant, antimicrobial, anti-tyrosinase and anti-inflammatory benefits. Secondly it is recognized internationally
as a safe ingredient – it is an approved ingredient on the IECIC and is considered safe for skin application by IFRA – and is governed by regulatory bodies and standards such as ISO, the British Pharmacopoeia, the United States Pharmacopoeia. CBD oils, on the other hand aren't required to meet national or international standards and seem to mostly be self-regulated by the producer. The lack of a regulatory framework is one of the reasons China has recently banned CBD oil for use in cosmetics while other peak industry bodies in the EU and North America are expressing their concerns.

EURO COSMETICS: CBD oil has of late come to the forefront about its effective use in cosmetics. What is it used for?

Dr Dhanushka Hettiarachchi: CBD (Cannabidiol) oil is a broad term used for the non-intoxicating extracts from the cannabis plant. Until recently, CBD and other cannabis ingredients were restricted globally as they were considered a narcotic substance, however it has become more mainstream off the back of research which suggests that it can help manage pain and inflammation.
Cosmetic application, however, is a newer use-case of CBD. The effectiveness of the oil as a cosmetic ingredient is mostly anecdotal, with claims around skin brightening, anti-aging and anti-acne properties not necessarily substantiated by research or correlating concentration levels. Whilst there have been some studies conducted on the antioxidant activity of CBD, thesestudies are based on gene expression, rather than actual cellular or clinical evidence.
EURO COSMETICS: What studies have been completed to prove the benefits of sandalwood in cosmetic formulations?

Dr Dhanushka Hettiarachchi: Over the years several cellular in vitro and ex vivo, as well as clinical studies, have shown that Indian sandalwood oil is a multi-functional ingredient with a plethora of cosmetic and wellness claims to its name.
Most recently Quintis commissioned a study which found that sandalwood oil acts as a potent antioxidant protecting the skin from environmental stressors such as pollution and blue light. Further to this that same study found that a key enzyme in collagen degradation, the MMP-1, was inhibited by Indian sandalwood oil, proving its antiaging benefits.
Wound healing – bBoth CBD oil and Indian Sandalwood Oil act on keratinocyte proliferation to facilitate wound healing.
Both do this by stimulating the calcium channels on keratinocytes, however, Indian sandalwood oil acts specifically on the receptor OR2AT41, while CBD oil acts specifically on CBD CB-1 receptor2.
Skin Brightening – Studies have shown that Indian sandalwood oil inhibits the tyrosinase enzyme, the key enzyme in producing melanin, which is responsible for uneven skin tone, dark spots, and pigmentation3 To date, there is no research to suggest that CBD can inhibit the tyrosinase enzyme or reduce the skins melanin production, with CBD's brightening claims all stemming from its antioxidant properties.
Other studies have proven the anti-inflammatory properties of Indian sandalwood oil, uncovering its ability to inhibit the onset of skin conditions such as acne, eczema and psoriasis. Studies have also shown that Indian sandalwood oil inhibits the tyrosinase enzyme, the key enzyme in producing melanin, which is responsible for uneven skin tone, dark spots, and pigmentation.
In the age of holistic skincare, sandalwood has a further role to play. Long used in aromatherapy for its calming properties, studies also show that when absorbed dermally sandalwood oil can decrease markers commonly associated with stress such as eye blink rate, pulse rate and systolic blood pressure.
Indian sandalwood is a multi-functional holistic ingredient with medicinal benefits for both the skin and cognitive function, it is also a delightful natural fragrance with
fixative properties. Unlike many essential oils Indian sandalwood oil remains stable in formulation and does not react with structural and functional ingredients, making it perfect for all manner of product formulations, including serums, gels, oils, cream, moisturizers, cleansers, masks, toners and spritzes.

EURO COSMETICS: And if it needs to be used in certain concentrations for skincare?

Dr Dhanushka Hettiarachchi: It can be claimed in cosmetic formulation containing 0.2 –2% of Indian sandalwood oil. At lower concentrations it can be combined with other actives and higher concentrations it is more suitable as the sole active ingredient.

EURO COSMETICS: In what products would you recommend sandalwood for?

Dr Dhanushka Hettiarachchi: For example it could be used as a daytime serum to protect skin from environmental stressors (pollution, solar and digital blue light), or as a night anti-aging cream it could be used repair the skin and reduce the visible signs of aging. In the current pandemic situation, it may be the perfect oil for a clear hydrogel to help reduce the appearance of acne, whilst keeping the mind calm and relaxed.

EURO COSMETICS: How is sandalwood processed (extracted)?

Dr Dhanushka Hettiarachchi: Quintis proudly owns and manages the largest Indian sandalwood plantation in the world, with 5.5 million trees spanning over 12,000 hectares across northern Australia. Our sustainable sandalwood is 100% naturally grown, with no growth hormones or artificial stimulants used.
The essential oil is extracted from the heartwood via a patented continuous steam distillation method unique to Quintis, which uses 75% less energy and water than traditional steam distillation processes.
Our final oil products are quality assured and controlled, abiding by the current internationally recognized standards and certifications including COSMOS (our oil is COSMOS approved).

EURO COSMETICS: What market areas will it be of highest interest to cosmetic formulators?

Dr Dhanushka Hettiarachchi: Consumers are shifting their perception of beauty towards a more holistic "beauty from the inside out" viewpoint; selfcare has taken centre stage, the line between cosmetics and wellness products is blurring and demand for multi-functional products that address more than just one attribute is climbing. Further to this, consumers appetite for natural, sustainable, and ethical products has gone mainstream, with Gen Z really pushing the envelope.
We're starting to see a lot of interest in sandalwood oil from cosmetic formulators – they recognise the ingredient satisfies the needs listed above, but also offers efficacy,
backed by research, to support product claims. It's a win-win for both consumers and formulators.

EURO COSMETICS: Thank you for the conversation.

References
1 Moy, R. L. and C. Levenson (2017). "Sandalwood album oil as a botanical therapeutic in dermatology." The Journal of clinical and aesthetic dermatology 10(10): 34.
2 Baswan, S.M., Klosner, A.E., Glynn, K., Rajgopal, A., Malik, K., Yim, S. and Stern, N. (2020). "Therapeutic potential of Cannabidiol (CBD) for skin health and disorders. Clinical, cosmetic and investigational dermatology, 13, 927.
3 Misra, B. B. and S. Dey (2013). "TLC-bioautographic evaluation of in vitro anti-tyrosinase and anti-cholinesterase potentials of sandalwood oil." Natural Product Communications 8(2): 1934578X1300800231
Dr. Dhanushka Hettiarachchi