A conversation with Akshay Talati,
Vice President, Product Development,
Research & Innovation, Regulatory – Beauty & Wellness – GOOP. Co-Founder – Skindie
EURO COSMETICS: Akshay, we understand you took part as an industry expert for the SCC in the podium discussion at the Los Angeles MakeUP conference. Please tell us something about the discussion on "Cosmetic Ingredient Trends."

Akshay Talati: This forum was the first of its kind organized by the Society of Cosmetic Chemists (SCC) in partnership with MakeUp in Los Angeles. It brought together a diverse panel of experts who shared their wealth of knowledge on "Everything-Beauty". The format was live Q&A with current SCC President, Michelle Hines directing the questions to myself, Robyn Watkins, Valerie George, and Jill Manning.
Some topics that we covered were:
The evolution of historical trends and hero ingredients was said to be cyclical. The same key biological ingredients, natural botanicals, ferments and ceramides Insights into the beauty industry Historical trends, hero ingredients and buzz words
have been repackaged "as new," and now appear in unfamiliar flavors of marketing presentations. Even the key "work-horse ingredients," such as glycerin, glycols, emollients oils and butters are considered as HERO ingredients as they play a crucial role in product performance.
We gave affirmative answers to the common myths in the beauty industry surrounding Sustainability, Synthetic vs Natural and Clean Beauty. Clean does not mean it is chemical-free. Natural does not mean it is safer. Synthetic does not mean it is bad and it is virtually impossible to launch a chemical-free product.
All natural ingredients are also chemicals and just because they are natural does not
make the products better or sustainable.
Several popular ingredients such as Peptides, Niacinamide, Ceramides, Ascorbic acid are synthetic and it was predicted that the next powerhouse ingredient could emerge from a synthetic source!
In a highly saturated and competitive market, Brands want to stand out above their competition, and they have resorted to what we can call a "numbers game".
The approach employs organizing key, well-known functional ingredients at the top of the label list thereby leading consumers to believe that higher is better.
There is a dose dependency curve for every functional molecule and after a certain percentage performance claimed will hit a plateau and there is no benefit in adding higher amounts that may simply increase skin sensitization. There are some amazing legacy beauty products from brands such as Nivea, Cetaphil, Eucerin, Ponds, and Olay; where the formulas are basic, no percentages are called out, but they do the job perfectly well. The formula base and the delivery system impact percentage of ingredient efficacy. The rapid-fire round and the end of the session was the most exciting part of the conference when we all voted, "yes or no," on current trends and whether they will stay or fade away and explain our position. It was interesting to see that even the panelists had different opinions on some of the trends/ingredients.
Overall the session was a big draw as demonstrated by the full-house audience. Due to the high popularity, we are planning to do a "version 2.0" at the Annual SCC Scientific meeting in Los Angeles, Dec 12–14, 2022.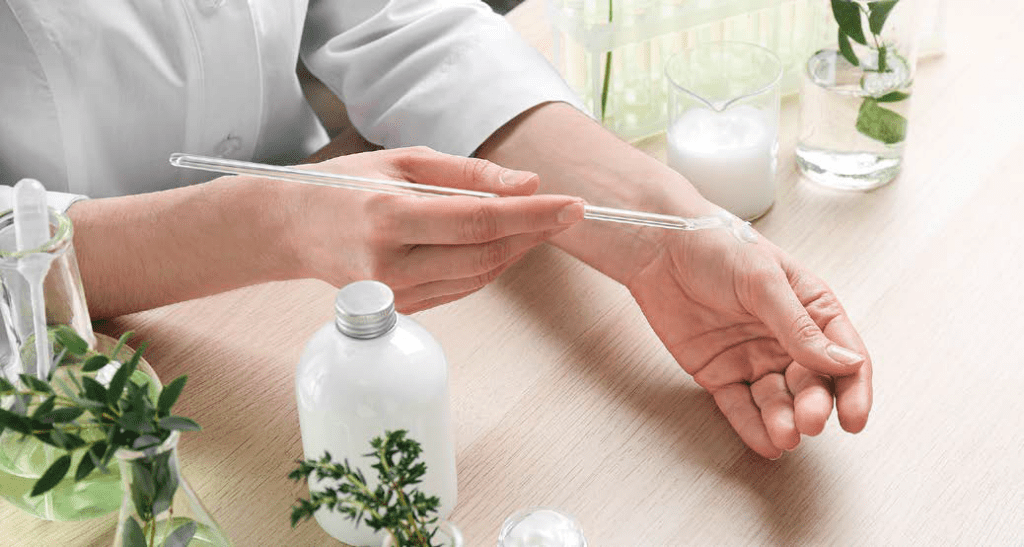 EURO COSMETICS: Thanks for that informative description of what happened at the conference. On another subject we understand that vegan ingredients, rather than animal ingredients are now popular in cosmetics products. Examples include lipstick made from red beets, are becoming more popular. What do you think about this development?

Akshay Talati: When I started in the cosmetic industry, animal-based ingredients were still prevalent. Examples included shark liver oil, collagen, elastin, cholesterol, and fats/waxes. However, in the last two decades, most of the industry has refrained
from using animal-based ingredients.
And guess what, there is absolutely no difference in product performance, efficacy,
or stability!
Challenges drive innovation and this led raw material manufacturers to create new solutions – I have seen yeast-derived cholesterol, biotech-derived Collagen/Elastin, and plant-based Squalane come to the fore. Creating animal-free products is a given now and non-negotiable and most of the brands will comply. An area where refinement is still needed is in processing aids or additives during the manufacture of raw materials, since these still employ some animal-based ingredients.

EURO COSMETICS: Sensitive skin is a widespread and increasing problem. That is why beauty products for sensitive skin that contain just a few ingredients are becoming more popular. Does less really mean more for sensitive skin?

Akshay Talati: Absolutely! You do not need to use a "kitchen-sink" approach to create every beauty product. For products targeted towards physician-diagnosed sensitive skin, "less is more" and simple formulas with simple routines are the way to go. Truly elegant and performing formulas can be easily created through minimalist formulas. You do not need more than 15 –20 ingredients to create a high-performing skincare formula. In an ideal formulation, 5 –10 ingredients are needed for the base which includes oils, waxes, emulsifiers, thickening agents, humectants;
5 ingredients for preservatives, buffers, fragrance; and 5 ingredients for functional bio-actives and emotive ingredients.
The trend of incorporating a higher number of ingredients in a product is multi-factorial.
First, beauty brands want to show newness and point of differentiation versus competition. They desire to make products positioned differently through ingredient label distinction. So, they end up loading up their formulas with several unnecessary ingredients to emotionally appeal to the audience, hence confusing them.
Second, raw material suppliers want a cut of the multi-billion-dollar pie and lobby ingredients with new benefits as opposed to the current trade show approach by private label formulation houses.
Third, formulation chemists are sandwiched between the desire of product developers who want products that seemingly appear different, and they constantly get wooed by raw material suppliers to experiment with new offerings.
Finally, the inner desire of consumers to constantly stay excited about the latest trends, and wanting products that have multi-functional benefits (who would not want a sunscreen made for sensitive skin that has multiple benefits of moisturization, soothing, antioxidant protection, brightening, blue light protection, etc. – you get the point!)

EURO COSMETICS: Yes, we do get the point. We also understand that no product can be sold today without transparency and sustainability. What do you think of this development and why are there not yet any "international clean beauty standards"?

Akshay Talati: The term " Clean Beauty" has evolved over the years and today is a boiling pot of several buzz words which depending on the brand, consumer, retailer, watchdog websites, or social influencer could all hold a small piece of a large jigsaw puzzle.
Clean beauty can be anything from ingredients, production, packaging, transport, retail, business practices and could be spread out over any of the below terminologies:
• Simple – minimalist, fewer ingredients, transparent, pure.
• Ethical – truthful, cruelty-free, vegan, halal, kosher, responsible, mindful, and conscious.
• Natural – derived from nature, chemical-free, free-from, organic, vegan, non- GMO, fermented, and green science.
• Healthy – gentle, non-toxic, d etox, hypoallergenic, antioxidants, regenerative.
• Ecological – sustainable, biodegradable, circular economy, zero-waste, clean energy, carbon neutral, eco-respectful, climatized beauty, and better for the world. With so many ever-evolving philosophies describing "clean-beauty" it would be virtually impossible for any regulatory body to impose regulations or clear definitions. Also, large multi-national brands who have a lot at stake defending their product or key ingredients are going to fight any regulation put forth. And in absence of regulations – retailers, brands, NGOs, websites, apps, influencers have created their own standards and certifications to qualify ingredients or products (e.g., EWG, Sephora, Credo, Cradle to Cradle, Ulta).
Lack of clear regulations has led to a lot of bad science out there that leads to fear-mongering. Many times, perfectly good materials with decades of relevant scientific test data succumb to the pressure of bad press and are replaced with ingredients pushed by benefactors, with even less data or sometimes no testing data.
The clean beauty movement is not perfect, It is evolving and has also brought forward transparency in information-sharing. The industry did stop using a lot of bad ingredients such as formaldehyde-releasing preservatives, animal sourced ingredients, phthalates, ethoxylates with traces of dioxane, benzene, etc. As an industry, we cannot ignore this phenomenon since if you look deeper, it is not necessarily about use of the word "clean beauty"; but more broadly the ideal approach is about a transformative phase that the world is going through and it is affecting every industry from food, automotive, textiles to beauty.
"Consumers are prioritizing skin
wellness and skin health is the future of beauty"

EURO COSMETICS: Will clean beauty replace natural cosmetics as a trend product?

Akshay Talati: Let us talk about some numbers first to understand the scale of both trends:
• 50% of all products launched today make some type of natural or environmental or ethical claims and the natural market is growing faster than the general global beauty market.
• Skincare compromises 68% of Clean Beauty trend followed by Makeup, Hair and last is Body.
• Consumers looking for clean beauty are spread out between 85% women and 15% men, plus it is trending younger where age group of 15 –24 comprise 30% of consumers looking for clean beauty.
• Sephora has over 1000 SKUs designated to Clean Beauty. Amazon has over 100k SKUs in Clean Beauty spread out over natural beauty, clean beauty, organic, vegan, and mindful beauty.
• In 2021 on the occasion of Earth Day there were 300k posts with the hashtag cleanbeauty on Instagram and just in the month of May, there were 2.5 million Instagram posts on clean beauty.
As discussed in the previous question, the line between what's clean beauty and what is natural are extremely blurry and could mean the same thing to many brands or consumers. If I must make a prediction, NATURAL is always going to stay; while the word clean beauty will continue to evolve. Natural is an exciting current trend and converges consumer preference across several economic segments and geographic borders. There is substantial R&D investment across natural formulations as well as ingredient development. With the arrival of biotechnology-derived ingredients (cell culture/fermentation), initiatives developed based on traditional herbal knowledge and nutraceutical applications, natural will continue to nurture a value chain across global sourcing hubs. Consumers are prioritizing skin wellness and skin health is the future of beauty. They are seeking out natural and clean beauty.
Educated consumers today are more informed and looking for simplicity, brands with a mission statement aligned with wellness, and caring for the planet. We are seeing the trend of naturals as they overlap pharma products such as diaper rash ointments and toothpastes with marketing claims of aloe or charcoal.
However, there is a downside to everything. Even in naturalness, there are greenwashing – false claims based and implied through product descriptions, company name, or even using images or packaging design that make consumers believe the product is green (e.g.: having a box of hair dye or diaper rash ointment with pictures of flowers or herbs on it which would make consumers believe at first glance that the product is truly created with high efficacious levels of these kinds of natural ingredients while in many cases it does not, and the ingredients could have just been sprinkled in for story purposes.
The duality of emotive marketing claims and upstream product innovation co-exist and confuse consumers as it is hard to differentiate a label calling out a watered- down natural ingredient from one that encompassed more innovation-driven efficacy. Consumer confusion can impact the industry's potential to sustain and monetize the natural trend more effectively.
While there are limitations of regulations in the beauty industry the natural scene is
even more so. Legal definitions of what is natural can also vary between natural, naturally derived, naturals without chemical modification, cosmos, organic, Ecocert, green chemistry, renewable, sustainable, synthetic, and the likes. There is a lack of oversight to hold brands accountable for backing up these claims. Combing through the greenwashing hype will require time and research.
For the true believer, there are many legitimate clean and green beauty products out there and it might be well worth the time and effort to filter out the genuine ones.

EURO COSMETICS: From the Alps to the Sahara, plants are being used as an ideal for the development of new technologies and materials. What innovations can we expect here?

Akshay Talati: Brands love to offer something new and different to the consumers, raw material manufacturers also compete to bring fresh ideas out in the market to create the urge and need for consumers to splurge and buy new beauty products and formulators fall into the trap of making both happy.
Over the last three decades, we have already tapped most, if not all f unctionalities from nature – plant-based phytochemicals, adaptogens, indigenous herbs and botanicals, superfoods, spices, flowers, marine algae, extremophiles, precious gemstones, and mineral ores – marketers do not want the same licorice or green tea or mushrooms, they want newness that sells.
We will continue to see the re-purposing of these materials. For those looking to introduce new breakthrough materials, look at ingredients that are unique and not introduced in cosmetics, look in local ethnic foods and nutraceuticals – e.g., psyllium husk, bitter gourd, coriander.
While the past few decades chemistry was at the forefront of ingredient innovation,
the next decade will bring biology to the forefront with a focus on innovation through biotech, bio-fermentation, and bio-cultures to create new possibilities in beauty. Biological engineering will drive novel solutions to petrochemical- based materials, biodegradable materials, synthetic materials and creating materials with narrow functionalities.

EURO COSMETICS: Since featuring your article on "Mentoring Matters" in our December issue in 2020, can you give our readers any more insights or advice?

Akshay Talati: Yes! You do not want to stop learning. Even at the stage of my career, I continue to play the role of both a mentor and a mentee. Writing the article on mentoring for EURO COSMETICS did indeed bring me to my calling and over the last couple of years I have mentored so many people fresh into the industry or experienced. Some are from the beauty industry and many from outside it. For some, it was to give career advice and for others to find jobs through my network.
Paying it forward is contagious and brings me an inner joy that I made a difference in someone else's life.
Today I want to mention to your readers not to let labels and titles limit you. Do not
undervalue and undersell yourself. Many mentees that I speak to expect that their work will speak for itself. While logically it would seem true, in reality it is not. Yes, your work is indeed important, but you need to also focus on the perception that others have of you. You need to start storytelling about your benefits and not just your features.
Self-promotion is not a dirty-word, and you will always be your biggest trumpet.
Do not let society limit you. Bring your input to life and it could be by a medium of your choice, being visible on social media is one of them. While writing your resume, put your personality to paper and avoid focusing on being very professional.
"Past few decades chemistry was at the
forefront of ingredient innovation.
The next decade will bring biology to the forefront with a focus on innovation through biotech, bio-fermentation, and biocultures to create new possibilities in beauty."

EURO COSMETICS: Akshay, thank you very much for your time and for the fascinating discussion. We acknowledge you for your frank, open expression of your opinions and are certain they will make a difference to our readers for that is our mission and commitment