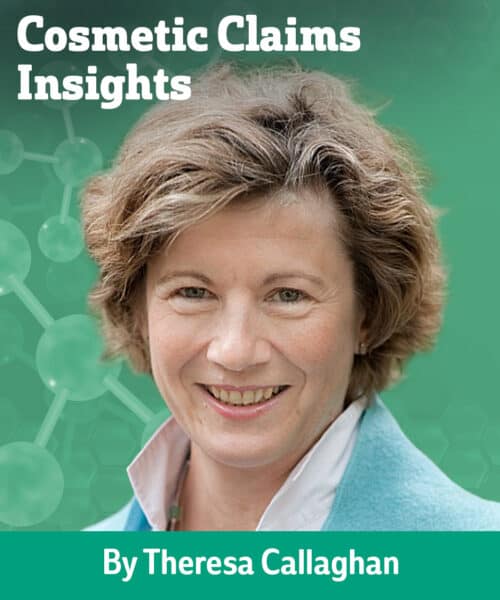 In this month's column and yes it's the end of the year, I decided to pick-up on a more-often-than-not, taken-for-granted, question – Hans Christian Anderson style.
As we close 2022, and looking back on a tumultuous period for us all, I realised that I have often been faced this year with a rather odd question: "what does 'the quality' of cosmetic claims actually mean?" Being the Christmas season, and since usually (though more soberly this year), it is full of pantomimes and TV fairytales, I thought I'd use one to help answer this seemingly bizarre yet important question!
Hans Christian Anderson stories will be well-known to many of us, either having had them read to us as children, or read them ourselves. One notable story is "The Emperors New Clothes". A vain Emperor is cheated by devious tailors who persuade him that the clothing they have designed and created for him is real and fabulous – he pays a small fortune too for these "unique" clothes. In his "blindness" he parades around town in nothing but his underwear, and no-one dares to tell him he has no clothes on, even though it is obvious. The onlookers even perpetuate and "grow" the deception, until finally someone dares to tell the "truth". The central theme of this story of the Emperor's new clothes is that illusion depends at least in part on self-deception on the part of those actually being deceived. This is so true of our industry at times, don't you think? The Emperor and his courtiers pretend he is wearing clothes because they do not wish to appear foolish (especially amongst themselves); and in the end these onlookers look even more so!
The meaning or moral behind this tale is that it is best to trust oneself and be honest – don't follow like social media sheep. Speak up for the factual truth and what is right. Without this "honesty", people often end up looking very foolish. In today's judgemental world, many people feel the need to pretend they know what they are doing without actually knowing or understanding what they are doing. So, looking around our industry, once one brand, or ingredient supplier, or journalist starts "something", everyone else follows because they do not want to seem foolish, even when the "something" they are following, actually is foolish! Clearly, it is best to do one's own thinking and research with facts, rather than trusting hearsay or unreliable information? This "foolishness" can be made worse when it comes to the "quality" of claims. In particular, as with the Emperor's clothes, is the "quality" of your evidence supporting your claims credible? I have spent a great deal of time this year with customers going through their so-called "evidence" and found at times their nice "clothes" supporting their product claims, were more like rags at times. It is not dishonesty of the client by any means – it is the poor quality of studies that were run in order to support the claims. Cheap and cheerful comes to mind – and yes, a lot of the time you get what you pay for – though not always, since the Emperor too paid a great deal for nothing! This year, we have seen the authorities pick-up on this with a number of Advertising authority rulings being discussed around the industry, especially when it comes to providing the right "weight" of evidence, e.g., numbers of volunteers, age of volunteers, even the sex of the volunteers, etc.
Through 2022, and as we came out of Covid lockdown, we have also seen the never ending growth of misinformation and disinformation suffocating our industry – perpetuated by the tsunami of social media illusions. For example, many jumped on deceptive "Green" and "Menopause" bandwagons, and "Greenwashing" and "Menowashing" claims are rife. "Activism" is also a worrying trend with militant overtones to "clean" and "toxic" beauty. The dangers of the "Metaverse" creeps over a "sleeping'" industry like Christmas sticky toffee – even appearing in product claims (no, not the toffee)! We are deceiving ourselves by turning a "blind eye" or "bandwagon jumping" so as not to look foolish alongside our competitors and colleagues. Or worse, because we "think" the "something" is what the consumer wants, rather than correcting and educating. We need to be re-educating ourselves as well as the consumer, rather than just being me-too bystanders. As we enter 2023, the industry could do itself a favour, take stock, and unravel itself from the misinformation and disinformation it finds itself caught up in, and re-focus back with circumspection to it's roots, and our real reasons for being here in the first place. As with all things in life, there is Hope …
Based in Hamburg, Dr Theresa Callaghan has international career spanning more than 30 years, having worked for a number of well-respected personal care companies at the senior level including LVMH-Dior, Unilever, Marks & Spencer, J&J, Evonik and proDERM. In 2008 she set up her own consulting business, anticipating a need for more discipline of cosmetic claims, and furthering  scientific developments involved in that process. As a scientist and the author of the popular book Help! I'm Covered in Adjectives: Cosmetic Claims & The Consumer (available from Amazon) Callaghan is also widely published with more than 120 papers. She gives regular workshops and presentations internationally and is a major contributor for peer-reviewed and trade journals, as well as authoring behalf of clients internationally. Theresa is also a lecturer on the MSc course for Cosmetic Science at the university of Sunderland (UK).
In addition she has appeared in number of press articles, interviews and podcasts and even has her own website and YouTube channel for cosmetic claims.