A conversation with Dr. Dirk Petersohn,
Director of the Center of Excellence Sustainability & Phenion, Henkel Beauty Care Technologies
EURO COSMETICS: Henkel is broadly known as a company that operates worldwide with leading innovations, brands, and technologies in three business areas: Adhesive Technologies, Beauty Care, and Laundry & Home Care. How does the Brand Phenion fit in here?

Dr. Dirk Petersohn: Recognizing, that our in-house skin models are superior in predicting chemical effects, Henkel has decided in 2017 to grant unlimited access to its innovative technologies using the brand name Phenion. With this decision Henkel took the next level of responsibility to avoid animal testing and to support the development of new in vitro methodologies and their application. Initially, scientists at Henkel have developed skin models intended to be used for internal projects only. At that time in vitro grown human skin was employed in data generation, for e.g. safety assessments or product developments in all three business areas. As the skin models from Henkel are very similar to human skin in many anatomical and physiological characteristics, they are ideal tools for assessing effects on human skin.
Thus, with the decision to grant access to the skin model technology Henkel supports third parties, like test laboratories or research institutes, to reduce animal testing by using reconstructed tissues for their own research and services or also to develop additional, new alternative testing methods.
Based on the global Henkel strategies the Phenion team developed the vision of a just cause: "Phenion facilitates the use of reconstructed human tissues to ultimately omit animal testing around the globe. To achieve this goal, we see the customers in the center of our strategy while we actively share our achievements"!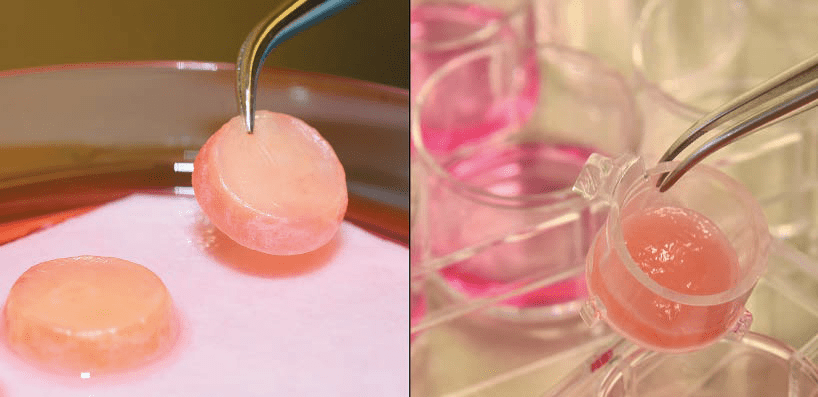 EURO COSMETICS: I can see the visionary character of "… ultimately omitting animal testing around the globe …". Can you please exemplify on how Phenion strategically develops towards achieving this goal?

Dr. Dirk Petersohn: Key for the strategic developments at Phenion is the customer.
We listen very closely to their needs and aim for understanding their pain-points or challenges, to provide support and develop solutions. Thus, it becomes obvious that in our eyes, the customer is more than only the basis of a business relation – customers are our partners! Like in a good partnership we trust in, and care for each other. In a nutshell: This is the reason why we developed additionally to the standard full thickness skin model, skin models in culture inserts, a LARGE version of outstanding size, the LONG-LIFE or the AGED versions.
We can see that today animal testing still needs to be conducted to address certain questions, particularly where alternatives are not yet in place. But frankly speaking, we at Phenion are convinced, that every single step can help to come closer to our vision and we want to provide our share of it.

EURO COSMETICS: At the beginning of November 2020, Henkel completed the acquisition of the epiCS Technology from the SkinInVitro GmbH, which is headquartered in Troisdorf, Germany. What considerations led to this?

Dr. Dirk Petersohn: Our ambition for Phenion is to expedite the development, dissemination and use of alternative test methods. The partnership with our customers teaches us about the constant need for the generation of regulatory accepted data on skin irritation and skin corrosion.
This is possible with test systems referenced in OECD Test Guidelines (OECDTG) like the epiCS Technology. This technology is listed in the OECD TGs for skin irritation (TG 439) and skin corrosion (TG 431).
In alignment with our vision and strategy to broaden the Phenion portfolio in a targeted way and to secure a sustainable access to the epiCS Technology we found an agreement with the SkinInVitro GmbH to continue the technology under the Phenion roof.

EURO COSMETICS: Can you share with us the efforts that have been made to secure a sustainable access to epiCS tissues?