Introduction
In today's world, it isn't only customer expectations that are decisive, but also the very diverse market requirements that determine the beauty care business. Cosmetic products change almost quarterly and, of course, packaging needs to be adapted accordingly. Online purchases of cosmetics and drugstore products are increasing and with them the possibilities to have creams, shampoo and powder customised.
E-commerce is acting as a booster for the customisation of products and packaging – resulting in smaller batch sizes at inevitably lower process speeds. This is a challenge that is best met with flexibility and efficiency. But filling, especially for contract fillers, needs to be automated to ensure precision and speed.
When it comes to filling and packaging cosmetics, exceptionally high flexibility has become the key determinant for future success.
Schubert-Cosmetics is a division of the world-renowned Schubert Group which offers seamless complete lines, from filling and packaging to the ready-to-dispatch pallet – all from a single source. The highly experienced team of experts is ideally positioned to provide answers to the most pressing questions in the cosmetics industry. Deploying a total solution from component feeding to the finished pallet simplifies the filling and packaging process, reduces format changeover times and increases the output of the most diverse products – from shampoo to eye shadow.

Schubert's core competence is increased line efficiency, which can only be ensured by seamless processes. The integration of individual process steps eliminates the conveyor sections between individual machines, the repeated clocking-in and ultimately the product carriers as well. The use of the intelligent Transmodul transport robot also ensures that the product and components are always in a defined and monitored state from the infeed to the pallet. This guarantees an enormously high format variety, which, thanks to the combination of flexibility and low format costs, ensures an ROI (return on investment) of two to a maximum of three years.
Sustainability also calls for flexibility
In addition to new packaging formats and product packaging, changing materials – especially with growing demand for sustainability – represent a real challenge for producers and packers. The trend towards refill packs, the reduction or avoidance of plastics, the use of recycled materials and paper are further issues which the industry has to face. Additionally, bottles are becoming increasingly thinner and therefore more susceptible to damage. It goes without saying that here, too, cleaning and filling needs to be handled as sensitively as possible in the overall process.
As a machine manufacturer driven by the aim of ideally meeting its customers' needs and wishes, Schubert-Cosmetics takes the concerns of all parties involved into account when developing its highly automated packaging solutions: those of customers, retailers and end consumers. It is only through the perfect interaction of all these requirements can solutions be created that prove their added value not only in the production process but also in sales.
Fast, flexible and efficient – thanks to 3D printing
Since product changes and alterations are far from uncommon in the cosmetics sector, the packaging machines also have to be adapted using the most suitable format parts. In times of supply bottlenecks, relying on third-party suppliers can be a very timeconsuming undertaking. The use of 3D printing offers a comprehensive solution for specialised tool production. Via Schubert Additive Solutions' PARTBOX virtual web platform, manufacturers can produce plastic parts in their own production facilities using 3D printing. The high-quality 3D printer from Schubert Additive Solutions also plays a decisive role here. All Schubert has to do is design the required new format part and make it available for download as a print job in the PARTBOX platform. And fast, flexible and cost-effective production of new format parts can go into
series production.
Quality proves itself in practice
The solution developed for Best World International, a manufacturer of premium cosmetics from Singapore, shows that the seamless process integration of Schubert-Cosmetics also proves
itself in practice. The product portfolio in question currently comprises eleven different filling media of varying viscosities, which are filled into five plastic and two glass bottle formats. A single format can include up to three individual parts, such as a bottle, a pump and a push cap. Furthermore, the fully automatic filling and packaging line has to guarantee high filling accuracy for very small quantities of 15 millilitres per batch size up to 118 millilitres.
Based on Schubert's proven TLM system components, the new packaging line demonstrates its flexibility primarily through fast format changes, a very high format variety and low format costs.
To achieve this, the entire filling and packaging process is integrated into an exceptionally compact single line.
In the line, plastic and glass bottles are cleaned, precisely filled, sealed and packaged in seamless successive steps. The demand for absolute completeness and integrity of the products and packaging is ensured by a camera system that checks at various points and sorts out damaged goods accordingly without interrupting the continuous process. Even with highly viscous cosmetic products, the system excels with its high filling accuracy also with smaller quantities of 15 millilitres, and delivers an output of up to 100 bottles per minute. Gentle handling of the product to be filled, weight control with fully automatic readjustment, and fully
integrated CIP cleaning processes result in a high-quality, futureproof line solution that can be scaled up within a very short time and respond flexibly to any market requirement.
Rethinking automation and seamless integration
Schubert-Cosmetics' strength lies not only in its innovative technical solutions, but also in its conceptual approach to seamless integrative filling and packaging processes for the cosmetics
industry. To this end, automation has been entirely rethought.
Schubert-Cosmetics, as a central solution provider, can offer the entire value chain of the filling and packaging process in a single solution. Based on TLM technology, even smaller batch sizes can be filled and packaged profitably. Schubert-Cosmetics offers its customers real added value and a decisive competitive advantage that promises to decisively shape the future of the cosmetics industry.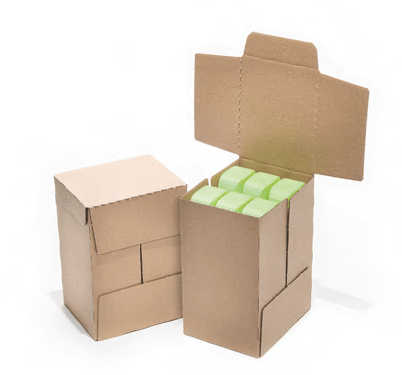 A complete solution such
as the one provided by
Schubert-Cosmetics, from
component feeding to
the finished pallet,
simplifies the filling and
packaging process, reduces
format changeover times
and increases output.